Autonomous vehicles – often called AV or self-driving vehicles – will have significant impact on the mobility landscape in the next few years. Especially when offered as on-demand services, they have the potential to make public transport services more attractive and competitive.
In practical terms, this means for example, that commuters will be able to use an app to order a pick-up shuttle to the nearest train or underground station. The shuttle will be driverless and pick up one or a number of passengers using the optimal routes.
Of course, many tests and analyses are still needed before AV can roam the roads safely and reliably. But a transport landscape with a significant presence of autonomous vehicles is closer than it may seem.
Cities and companies worldwide are already testing them on real roads; companies like Uber and Waymo, to name a few, are very active in their AV trials. And just recently, a trial with robot shuttle fleets has been launched in five European cities.
At the same time, providing on-demand services with these new technologies presents challenges to city authorities, public transport operators and car manufacturers. They all scramble to find out how to best use autonomous vehicles as part of the public transport system, or beside it.
Questions about autonomous vehicles
Among the questions marks surrounding the upcoming introduction of AV on-demand services: how will those services look like? What impact will autonomous vehicles have on other vehicles, and the existing transport systems? What changes in infrastructure are needed? And will they really solve pollution problems?
At what penetration rate does the impact of autonomous vehicles occur at all? What is the added value for society? And which business case is in line with that?
Many questions are occurring with the rise of new technologies. Software tools, which visualize and simulate mobility scenarios, can help answer many of these questions.
Let's imagine that a certain city estimates that 10% of its residents will use autonomous shuttle services. How can it know if this will result in the desired reduction in traffic, emissions, and noise? What if the results can be achieved if more (or less) people use AV services?
Creating a traffic model of this city is the most effective starting point for measuring the impact of autonomous vehicles and-on-demand services. Within this traffic model, or 'digital twin', it is possible to visualize and compare many different scenarios of traffic where AV is part of the system.
Running through different parameters opens possibilities for optimization. For example, it will clarify the maximum time a traveler is willing to wait for the autonomous on-demand shuttle; or the acceptable journey time detour during ride-sharing.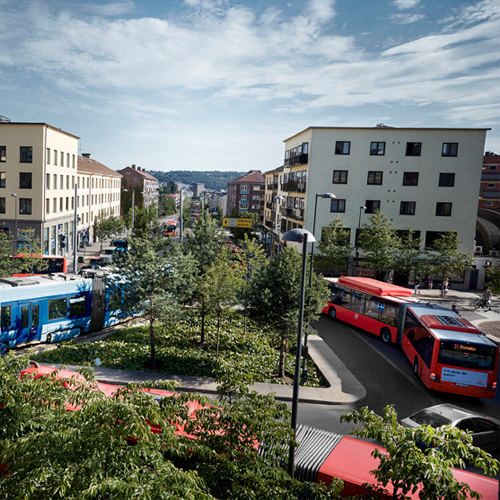 One of the cities taking active steps to prepare for the introduction of autonomous vehicles is the Norwegian capital, Oslo. A recent study, in which PTV Group teamed up with Oslo's transport operator Ruter and consultancy COWI, visualized this near future.
The study, completed in April 2019, checked what impact autonomous vehicles and on-demand services will have on the city's transport network.
The study showed that autonomous vehicles will help reduce traffic only when integrated into a larger mobility system. But if used the same way as cars today, they will worsen the situation.
The scenario that produced the biggest reduction in traffic was where users of public transport continue to do so while car-drivers switch to ridesharing. This gave a 14 per cent reduction in traffic across the study area. Conversely, the volume of traffic would increase by 97 per cent if everyone who currently drives and everyone who uses public transport switched to car-sharing, but without ridesharing.
Estimating demand for autonomous vehicles
PTV Software was used in other cities, like Cologne or Barcelona, to assess the effects on traffic of on-demand services.
The simulations in these studies pointed out to an interesting fact: only half of the suggested number of on-demand vehicles is enough to serve 80% of the demand. In other words: If 4,000 vehicles are needed to serve the whole demand of a new service, then 2,000 would be enough to cover 80 %. The other half of the fleet is inefficient and uneconomical.
AV and air quality and noise pollution
Another factor for planners preparing for a future with autonomous vehicles is their effect on air pollution and on noise. A joint solution with PTV Software and Urban strategy, a calculation model for interactive planning from the Dutch research organization TNO offers insights into that.
This enables policymakers to zoom in on a specific neighborhoods, and calculate the effects of planned measures.
The complex work of preparing for autonomous vehicles is underway. Sophisticated visualization tools give planners – and the public – a glimpse of what life will be like when they hit the roads.