Supply chain resilience is more critical than ever. With the subsequent changes in technology and consumer expectations, issues like cutting transportation costs, the rise in fuel, and driver shortages during a world-wide pandemic have certainly catapulted us into a new era of logistics complexity. 
What risks are important to consider for logistics and transportation?
The pandemic has shaped a new future for logistics and has certainly forced many businesses to cut transportation costs. In doing so, businesses have had to either depend on fewer carriers or ask for reduced rates. 
But this was not really a viable solution: Merging shipments negatively impact a business due to poor customer satisfaction ratings, because deliveries might be late or never even show up.
To give a concrete example, when customers order from same-day delivery services through Amazon Delivery, it increases the pressure for all businesses to do the same (which might not be realistic). This again comes at the cost of customer satisfaction. 
Since the first wave of Covid-19, implementing a contingency plan and learning from past mistakes is imperative.
Acknowledging the past and understanding the risks are key starting points to paving a way forward.
Despite the new challenges faced, it's important to use them as a learning point, so we can remain adaptable and create agile logistics systems moving forward. 
So, let's dive deep into the top 5 challenges in transportation and logistics, as well as our suggestions on how to make improvements going forward.
Key challenges in transportation and logistics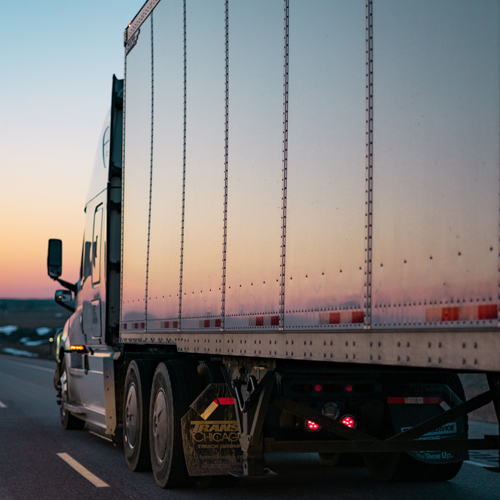 To overcome today's logistics challenges, the primary focus for the industry as a collective, should be working towards ensuring more sustainable transportation is utilized, higher customer satisfaction, and nourishing the economy
#1 The Difficulty to Cut Transport Costs
I'm not going to sugar coat it: Shipping and transportation are by far the most expensive cost in logistics. Businesses in the United States alone spent over $1.45 trillion on transportation in 2018. Because it's the largest overhead for most businesses (even remote ones), it seems this issue isn't going anywhere anytime soon.
On the bright side, we can start to chip away at this by optimizing shipping routes through data analysis. By easily coordinating incoming orders, meeting dock times, and predicting traffic conditions it is possible to cut costs – and not to mention that the brands logistics companies work with will have happy customers.
#2 Rising Fuel Prices & Impact on the Economy
When the price of fuel increases, the overall mood of consumers decreases, flight prices skyrocket, and of course, it dramatically impacts the logistics industry (we know those freight fuel tanks aren't cheap!) Because of this, serious delays among the supply chain are inevitable as decisions on which trucks to fill need to be made. Indeed, there's no doubt that this leads to a drastic impact of rising fuel cost for logistics.
While it might seem like the logistics industry is facing an uphill battle, technology again is here to help us. By consolidating shipments and using data to make informed decisions about route optimization, it's possible to stretch a logistics budget a whole lot further. Remember; when you reduce the mileage you ultimately decrease fuel consumption. And that's even a win for the environment, too!
#3 Driver Shortages Related to the Pandemic
In 2018, there was a shortage of 50,000 drivers due to a flourishing US economy, long hours required by drivers, and extensive time away from home. This shortage has had a domino effect: When the economy is growing, there's no way to get all the goods where they need to be, so the cost of the products increase, which then gives the opposite effect of a booming economy. 
Think about it like this… when the hose in your backyard gets a kink in it, the water that's flowing halts and can't fully move through the nozzle. The people who orchestrate our complex logistics systems are the puzzle piece that holds the economy together – they allow the water to break free and flow to its destination.
Fast forward our history lesson to today and we've seen that we're facing an even bigger problem: There's more than a 300,000 driver shortage due to Brexit and the pandemic. 
This is caused by elements like the following:
Financial shortfalls have led to lack of resources

Continuing social distancing regulations

Large financial funding from the government discourages drivers to get back to work
So, what can we do to solve this?
Through route optimization, it's possible to maximize the effectiveness of existing fleet and drivers within an organization. Our software solutions help planners analyze data and to fully utilize their resources.
Moreover, due to more realistic routing and arrival times, drivers are more likely to make their ramp times. Overall, route optimization software reduces the stress drivers experience and contributes to improved driver satisfaction and long-term retention.
#4 Complex Government Regulations
Because unforeseen circumstances like Covid-19 and Brexit have occurred, the need for governments to digitally transform has smacked us all in the face. With long processes, and bureaucratic regulations, it's difficult to put solutions in place without the "ok" from authorities. 
As we've all collectively witnessed the pandemic in all of its downfalls, it's made one thing quite clear: we need to leverage technology to become more adaptable. 
Replacing outdated systems with automated solutions like PTV Map & Guide and the PTV

Route Optimiser

that enables planners to identify potential for improving routes at the push of a button
#5 The Growing Need for Sustainable Logistics Operations
Another notable (and rather positive) outcome from the pandemic is the push for conscious consumerism, as well as a shift in laws and regulations. Consumers and businesses now want to know what types of brands they're supporting and how they're helping the environment.
With this in mind comes a demand for sustainable logistics operations. Logistics planners can improve on these elements with technology like the PTV Route Optimiser. Our range of software products helps save 40,000 tons of CO2 every day and an average of 17% of profits annually. 
To add to that, some more benefits of sustainable logistics operations are:
Companies that pollute less have higher chances to win contracts

Related government policies flow smoothly

Green vehicles decrease the cost of fuel and skyrocket profits
We've extensively talked about the current challenges and risks in logistics and how software solutions mitigate them. Now, let's summarize our findings. 
Transport and logistics solutions to mitigate risk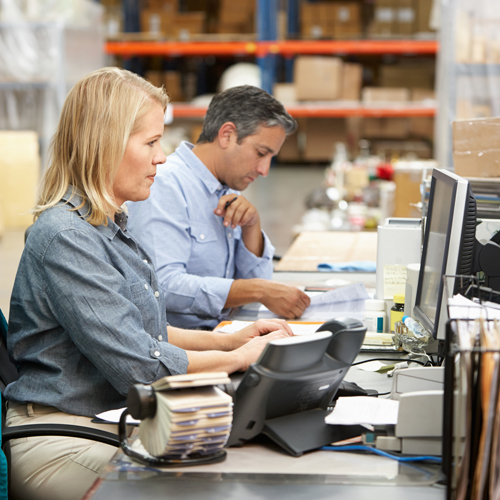 Between rising fuel prices, driver shortages as well as a governmental and societal push for increased digitization and sustainability, transport and logistics will continue to be under a lot of pressure in 2022. Logistics players can address these challenges by integrating software solutions into their business processes. Let's take a look how. 
Reduced mileage and transport costs:

 Software enables logistics companies to significantly reduce transport costs. A huge saving can be achieved thanks to optimized routing, which essentially reduces the number of driven kilometers and thereby fuel consumption. Moreover, intelligent route planning software enables transport planners to factor in and avoid toll routes. Our market-leading route planning software PTV Map&Guide is specifically designed to plan optimal routes for trucks and large transport vehicles and comes with the most precise transport cost calculator available. Read more about planning routes and calculating freight cost with 

PTV Map&Guide

. 
Maximized utilization of fleet and driver capacity

: Routing and scheduling software distributes orders optimally to available vehicles and creates efficient schedules for drivers. It identifies the best sequence of stops for each vehicle and calculates optimized driving routes. Moreover, combining deliveries and collections reduces empty runs. Thanks to powerful and intelligent algorithms, software solves these logistical challenges more efficiently than even the most seasoned transport planner could manually. Thereby, it ensures that available resources are used to their fullest potential and enables companies to handle more orders with their existing vehicles. Read how 

PTV Route Optimiser

 optimizes routes and schedules at the push of a button.

 

State-of-the-art software solutions mitigate risks along the supply chain:

 Logistics software enables transport companies to track their vehicles in real-time, calculate estimated arrival times (ETA) and share position and arrival data with all stakeholders along the transportation chain. In doing so, software boosts transparency, planning security and efficiency along the supply chain. Our 

PTV Developer Components

 offers powerful APIs for all geographical and logistical needs that can be integrated into any software infrastructure easily and flexibly. 




 

Happy drivers and less fluctuation:

 Being stuck in traffic, no-go zones in urban areas, difficulty to find safe overnight parking and being too late for ramp time slots – a driver's life is often stressful and hectic. Software helps with almost all challenges drivers face daily. For example, 

PTV Navigator

 guides drivers to their destination safe and sound, and on time. The software navigates them turn-by-turn and only on routes suited to their vehicle profile. 

PTV Route Optimiser

 creates realistic schedules, tracks position and arrival information, and increases punctuality. It allows drivers to make their ramp times – or notifies customers in case they don't – and thereby avoids all the hassle associated with being late. 

 

Reduced emissions

: In recent months, the need to cut emissions to stay below 1.5 degrees has become blatantly clear. Societal pressure for more restrictions is increasing – and finally moving administrations to put regulations in place. More and more countries are making moves to implement mandatory emissions reporting programs to systematically measure and monitor emissions. The ability to accurately calculate and report all emissions, specifically CO

2

 and nitrogen, is no longer a nice-to-have. It's becoming a deciding factor in any logistics company's success. All PTV's logistics ready-to-use software solutions offer emissions calculators. PTV xServer offers a software developer component, available as a cloud-based web service or an on-premise solution, that enables logistics companies to integrate 

emissions calculation capabilities

 into an existing software architecture.

 
Get prepared for the future challenges of logistics management with the right strategy
From cutting transportation costs, to rising fuel costs, pandemic-related driver shortages, complex regulations, and the need for more sustainable operations, there's no doubt the logistics industry has its hands full. But, just like getting in a car accident without car insurance can literally cause a bigger headache, the same goes for being unprepared in the logistics industry. And in order to prepare, the logistics industry needs to focus on becoming as flexible as possible by using technology to their advantage. For technology enables the logistics industry to reduce, mileage, transportation cost and emissions, increase the utilization of fleet and driver capacity, and boost transparency and efficiency along the entire supply chain.