The city of Tallinn is progressive in many ways. Estonia's capital is often named as a smart city role model because of its strong focus on livable urban spaces, digital transformation, and sustainability. In 2021, Tallinn confirmed this reputation by launching the Baltic region's first Digital Transport Model.
The groundbreaking transport model, created by PTV Visum software, is now the city's main tool to predict mobility needs and improve urban planning. It is a collaboration between the Tallinn Transport Department and PTV Group.
Transport models are digital twins of complex real-world transport and land use systems. The PTV Visum-based Tallinn Strategic Transport Model includes data on 130,000 road sections, which are constantly updated.
The digital transport model simulates passenger and freight transport activities and covers all mobility in the region of Tallinn. It provides the city's Transportation Department a reliable demand model with detailed analyses of infrastructure. Local and regional transport policies can be studied through the model.
Transport model empowers planners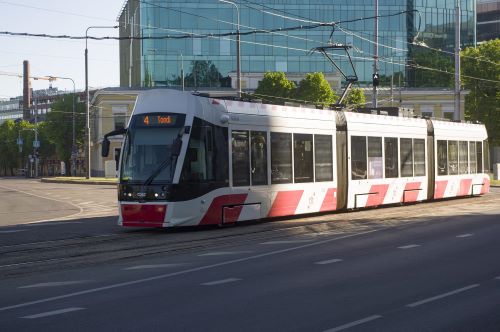 Grigori Parfjonov, an Urban Mobility Expert at Tallinn Transportation Department, explained why the city needed a transport model: "We reached to a point where an additional tool would be very helpful to analyze both traffic and public transportation issues. Obviously, a transport model is not a cure for all problems, but it is a good supplement for solving complicated transport problems. We chose PTV Visum because it fully fulfills our need to become more sustainable."
All kind of road users can be modelled within the digital transport model: Cars, public transport, trucks, and pedestrians, and more. Planners using the model can also distinguish between 12 types of user groups, including students, workers, and pensioners. It also considers complex movement patterns, such as persons taking their children to school on the way to work.
The digital transport model not only helps Tallinn's planners understand the present mobility ecosystem. Within this digital playground, they can also run through future scenarios and predict mobility problems.
The model empowers the city planners to assess the feasibility and impact of different measures in urban planning. They can then take the right decisions to support healthy urban development.
Andrei Novikov, Deputy Mayor of Tallinn, explains: "Among other things, we can assess the different needs of the people in each region. The traffic simulations used in the model can, for example, make better decisions about what the capacity needs of one or the other should be today, or assess decisions to upgrade the city's public transport network."
Building from scratch
Building the model was challenging, as no actual transport model was existing before. "The modelling experts of  PTV could not rely on previous work but had to establish the model from scratch", explains Bernhard Fell from PTV Group, who was involved in the project, "this constituted a major challenge, especially as the availability and quality of model input data was partly limited."
To build the model, the following steps were taken:
Implementation of integrated supply models for cars, trucks, and public transport.
Determination of model area and traffic zones – derived from counts.
Setup of an integrated land use data model as input for passenger demand calculation.
Design of tour-based passenger demand model for a 24-hour workday.
Generation of fixed matrices for commercial traffic form existing statistics.
Model calibration and validation.
Development of forecast scenarios.
The model was activated in late 2021. Since then, says Parfjonov, "we already obtained a lot of useful information for important projects. The transport model will be used to update the public transport network in the coming years."