Transportation models are among the most crucial tools when it comes to shaping mobility and infrastructure for the future. Until now, such digital twins of cities were set up manually: from collecting data, to data integration and the technical setup. This is a time-consuming task. With PTV Model2Go, PTV Group now launches a technology that for the first time automizes the building of standardized transport models.
Today, city and traffic planners must balance between various competing demands. The transition towards a more sustainable mobility ecosystem is more urgent than ever, in order to meet challenges like climate change and growing urbanization and shape liveable environments.
At the same time, the demand for mobility and easily accessible means of transport is growing. Planers must keep in mind the needs of people, as well as those of the economy.
Transport models serve as an important base for making sound decisions and for setting the right framework for the future of transportation. Nevertheless, transport models often don't come into use because they are too expensive and time-consuming to create, and many questions have to be solved quickly.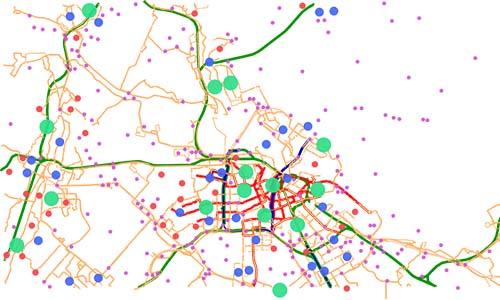 "Building a base model manually may take a month and requires lots of knowhow and resources", says Udo Heidl, Head of Modelfactory at PTV Group. "We understood that in order to increase the business and diversity of modeling, we needed to help the industry to speed up this process. That's how the idea of Model2Go was born."
The new cloud-based process combines smart automation technology with various data sources, including networks from Here or TomTom, as well as public General Transit Feed Specification (GTFS) data on public transport networks, and OpenStreetMap data.
The automated process of model generation is faster and cost- and resource-effective. But that's not all – it is also significantly less error-prone.
"With Model2Go we can set up a base model of any given city worldwide within just one week. Users such as cities, consulting companies or research institutions receive a ready-made foundation on which they can directly implement simple and complex use cases", explains the PTV expert. "Our first release is PTV Model2Go Supply which represents the network supply of different modes of transport."
PTV Model2Go Supply not only contains the road network and associated parameters such as route types, speeds, and capacities; It also includes the public transport network, timetables, points of interest and structural data. Additionally, traffic zones can be generated.
According to Heidl, the Model2Go Supply model is ready for immediate use after delivery for analysis and visualization for several basic use cases: "For example for accessibility analyses – for cars, bikes or transit – infrastructure planning or operational planning in public transport."
He adds: "Users can also customize the fundaments of Model2Go with additional data and modelling for more complex use cases, such as transportation studies, potential analysis or in traffic development planning."
In addition to PTV Model2Go Supply, PTV's team of experts is developing a second version of the product called PTV Model2Go Demand, which includes observed travel data and will be coming soon.
To underline the diverse possibilities of Model2Go, Heidl and his team have built 6 ready-to-use Model2Go example models for the cities of Amsterdam, Atlanta, Berlin, Cape Town, Manila, and Paris, for different areas of application.
The Atlanta model, for example, can be used to assess the existing roadway infrastructure based on network free flow speeds, the number of lanes for all links, junction geometries, and estimates of signal timing. The Amsterdam showcase demonstrates how spatial data on population and land use can be used for potential studies for on-demand services. The Berlin model covers all information of the city's public transport supply and enables users to evaluate network and timetable variants and operating concepts.
"These are only 6 examples. This collection can be extended easily with multiple use cases for any desired city in the world", insists Heidl, "Thanks to Model2Go, traffic modeling is now straightforward and possible in a short time. This opens up new opportunities for cities or consulting firms that have previously avoided model-based analyses due to time or cost constraints."