Public transportation is at crossroads. Climate change and rising energy prices are increasing the public's awareness of its critical role. At the same time, operators and planners face an uphill battle to adjust themselves to new realities, such as emissions regulations, competition (and collaboration) from new mobility services, and fast changing behavior of passengers.  The Public Transport Trends Report 2022 aims to answer some of the most pressing questions of the industry – as seen by its professionals and experts.
Main challenges: Service quality & punctuality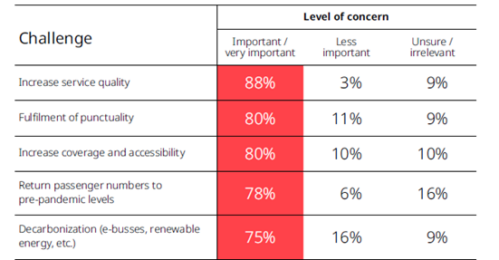 For the new study, PTV Group surveyed over 700 experts and professionals from more than 60 countries. For them, the most acute challenges are in improving quality of service (88 %), as well as punctuality (80 %), coverage, and accessibility (80%). Experts also continue to be concerned about the impact of the pandemic. 78 % of respondents still see returning passenger numbers to pre-pandemic levels as an important issue
Mobility hubs, dedicated locations where sustainable transport modes are co-located in proximity are among the strategies to enhance urban mobility. According to the survey, however, such concepts have so far only been implemented to a limited extent. Just 19 % of the respondents said that their organization is already active in this area. But a third of respondents say they already integrated shared services into their offering.
Which incentives are most likely to convince people to use public transport?
Shifting people from private cars to public transport is an important step towards a green change in mobility. According to the surveyed public transport experts, the most important incentives are better accessibility (95%), more frequent service & on-demand services (95%) and integration with other mobility services (87%). In contrast, cheaper ticket prices, as they are often discussed these days, only play a smaller role. Just 26% of participants consider price reductions to be the decisive argument for more people to use public transportation.
"The attractiveness of public transport often depends on small steps that improve its quality: Providing comfort to passengers, in comparison to driving cars; Shorter transfer times between modes; And government subsidies to shield commuters from rising energy prices. Operators can find the right steps by using software to analyze different scenarios," explains Chan Shen from PTV Group.