Each day, thousands of people move from rural to urban areas around the world. This continuous migration places a huge demand on existing city infrastructures, especially the transport systems.
Residents have to put up with increasing traffic congestion, air and noise pollution, vehicle accidents, unsightly street parking, and climate change. Additionally, many cities experience an increasing accessibility crisis, making it less convenient to move around.
While this does sound bleak, there is a solution: sustainable urban mobility. With the right infrastructure in place, growing cities can be structured to improve public health and road safety.
What does sustainable urban mobility look like?
With nearly 70% of the world's population projected to reside in urban areas by 2050, it's vital for cities to develop future-proof mobility solutions.
Sustainable urban mobility is an effective and efficient transportation concept that prioritizes accessibility in creating a better life for people and the environment throughout the long haul.
A well-designed, sustainable city infrastructure includes the following: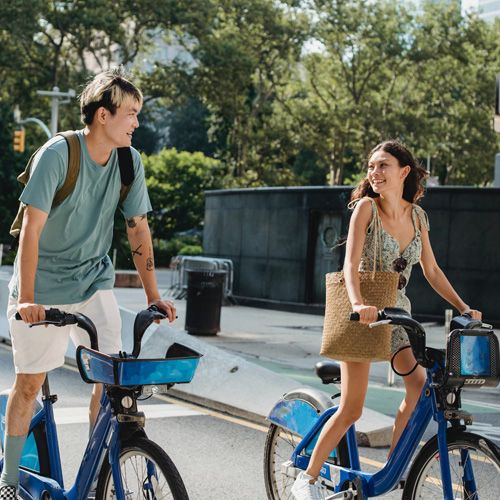 Fully utilizes all existing infrastructure: Includes buses, trains, and subways in every neighborhood.
Considers pedestrians and bikes: The proper utilization of other transportation styles like walking and biking.
Accommodates new modes of mobility with suitable locations for them: Electric scooters, car ride-sharing, and bike-sharing with well-planned parking spaces and charging stations.
Enables people to travel around the city: People should have easy access to all types of city activities, leisure facilities, and public spaces regardless of gender, age, and disabilities.
Sustainable roads and commuting rules that improve safety: Roads with wider sidewalks, enforcing speed limits, and ensuring that all of the elements defined above aren't hindered.
A balance between society and the environment: Maintains green spaces within the city and doesn't heavily disturb the environment on the outskirts of the city
When sustainable urban mobility is planned accordingly, it creates better living conditions for residents, is an excellent foundation for economic growth, and helps preserve the environment.
What are the challenges of developing sustainable urban mobility?
Developing sustainable urban mobility involves creating innovative strategies to overcome and eliminate constraints to movement. While it is a welcome solution, certain challenges are associated with planning and design for sustainable urban mobility. Below are some of these difficulties.
Integrating transport planning with other aspects of city life
To develop a sustainable transportation system, we first have to organize the different aspects of the existing urban space. An example is land use planning, especially in developing countries.
Many developing cities are characterized by two contrasting types of land use within the same city:
Informal and illegal patterns: Areas with a lack of transport infrastructures and inadequate access roads.
Residential zones for high and middle-income groups: Areas with well-connected roads, but are often more suitable for private vehicles rather than public transportation.
Generally, a low percentage of urban land is allocated to streets in developing countries. In designing mobility systems in such cities, the layouts of streets and neighborhoods might discourage the introduction of new modes of mobility.
When we consider this in the context of sustainable urban mobility, we can overcome this challenge with the proper planning and consideration of all residents involved.
Social, environmental, & economic factors
Urban mobility is only socially sustainable if every individual can access transportation modes – no matter their social, income, gender, and physical differences. Nonetheless, a few challenges come into play here:
Ticket costs: When governments construct public transport services, low-income earners may find it difficult to pay if tickets are unsubsidized.
Complex routes: Traditional fixed-route bus services are impractical for many parents who have to complete complex trips. Activities like taking children to school, shopping, and running other errands simultaneously require expensive private transportation modes.
The cost associated with developing sustainable transportation: Planning and design for sustainable urban mobility are expensive. Creating walkways, railways, pavements, and other infrastructure can consume a large share of the public budget in developing economies.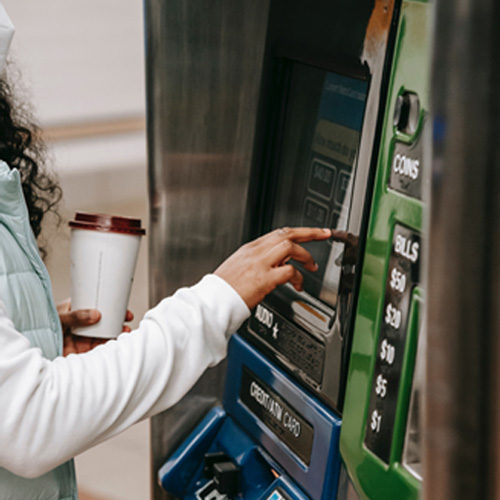 The integration of renewable energy: It's difficult to wean our transportation sector from its heavy reliance on non-renewable fossil fuels and exchange them for renewables.
The cost of infrastructural maintenance: The task of paying for ongoing maintenance, which is mainly funded by taxes, could become an additional tax burden for local residents and cause tension between them and the government.
Although many of the challenges mentioned above are related to the financial elements of sustainable urban mobility, it's important to consider the short-term vs the long-term. With the right planning and design in place, the amount that sustainable infrastructures save as times goes on is well worth the initial investment.
Getting permission from institutions and the government
Creating sustainable urban mobility depends on the support of the government and relevant regulatory institutions. However, many developing nations lack institutional capacity in trained talent and a corruption-free procurement process for providing efficient transport services.
For any country who wants to become more sustainable, managing and coordinating with urban transportation services in a decentralized and transparent manner can be an obstacle, but is always a necessary step in order to move forward.
Guidelines for developing and implementing a sustainable urban mobility plan
In developing a sustainable urban mobility plan (SUMP), our objective should focus on people and how to meet their basic mobility needs. We need to incorporate all modes (public, private, passengers, freight, etc.) and forms (motorized and non-motorized) of transportation.
It's vital that we thoroughly assess our current performance to establish a baseline for measuring future performance.
Also, remember that the sustainability of projects hinges on regular monitoring and evaluation. Where necessary, implement corrective actions and revisions, but ensure it's in line with your overall goal.
In order to help you out, here are vital guidelines you should consider.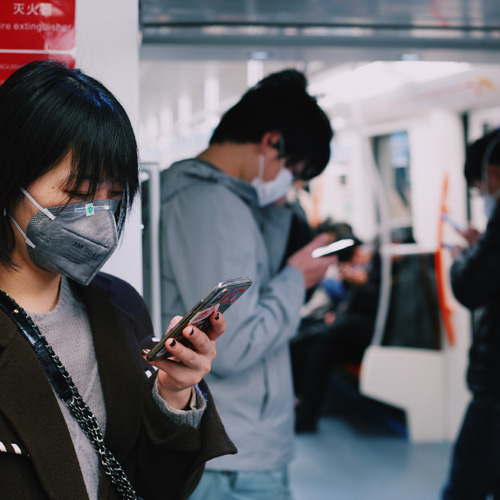 Part 1: Take a holistic and systemic approach
When planning sustainable urban mobility, you need to consider the whole system rather than just its parts. For sustainable transportation to be successful now and in the future, your plan should consider all aspects of sustainability as well as social, environmental, and economic factors. The goal of a sustainable urban mobility plan is to create a more accessible and attractive city for residents, visitors, and investors, as well as preserve the environment.
Part 2: Provide equitable access to urban mobility
The social sustainability of an urban transport system depends on equitable and fair access to transport infrastructures and systems. Every urban resident, irrespective of income, physical (gender, ethnicity, age, disability), and social differences, should have access to the city's basic services.
Your plan should provide equitable access in the following ways:
Consider low-income earners and ensure they can afford transport modes and other basic services (healthcare, education) without budget strain.
Eliminate transport-related burdens women face, such as sexual harassment in overcrowded buses, threats in unilluminated bus stops, unsafe crosswalks, and access to individual means of transport.
Design streets and transport infrastructure to accommodate young children, the elderly, and the disabled.
The SUMP must integrate everyone into the city's economic and social life – only then can it truly be sustainable.
Part 3: Determine the impact on the environment
A vital characteristic of sustainable urban mobility is the ability to reduce the impact of the transportation sector on the environment. Motorized public and private vehicles are huge sources of air and noise pollution in urban areas.
Rising greenhouse gas emissions is a source of concern, and the need to tackle the climate crisis is universally acknowledged. So when developing a SUMP, you need to determine the impact of these emissions on the surrounding environment and outline steps to reduce them.
Part 4: Consider the economic impact and financing needed
To make the planning, design, and implementation of sustainable urban mobility possible, proper financing must be in place.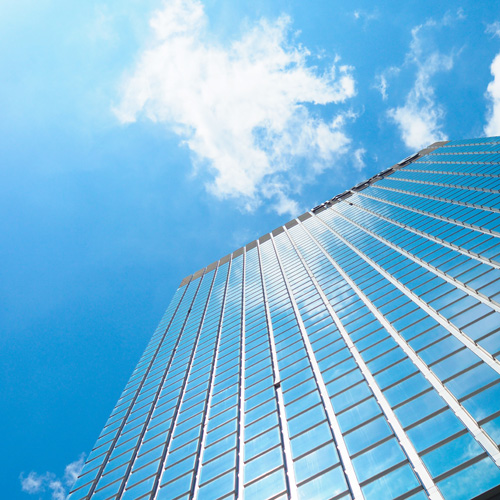 Here, we can look at areas we can get funding from and not only focus on borrowing. Can you reduce implicit subsidies placed on cars so you can reallocate some of that money to a sustainable mobility system? What about funding opportunities from land value capture? Can you utilize public-private partnerships (PPPs)?
Through a combination of such strategies, sustainable mobility becomes more attractive to both private investors and institutional investors like insurance companies, public banks, and pension funds.
Part 5: Integrate institutional and governance frameworks
Stakeholders across all levels of government and the people themselves play a part in the planning and design of sustainable urban mobility.
Consider sustainability when making policy choices and creating sustainability frameworks. For example, local city authorities can promote private or commercial electric vehicles by providing free parking or exemptions from access restrictions like lower tolls. Or, national incentives like a tax policy and energy prices can motivate stakeholders to agree on sustainable measures.
Through the process of good communication and compromise, it is possible to find solutions that satisfy everyone involved.
Your steps for developing sustainable urban mobility
Some cities and countries are already taking significant steps towards planning and design for sustainable urban mobility.
An excellent example of a well-designed sustainable urban mobility plan was adopted by Malmo, Sweden in 2016. It laid out guidelines for developing and implementing a sustainable urban mobility plan that was "people-focused" in that it included everyone regardless of age, gender, and income.
A few developing countries are also taking some steps. For example, Lagos, Nigeria created a Bus Rapid Transit system with dedicated lanes for BRT buses.
Although starting with sustainable initiatives can seem like an immense task, you don't have to leap to electric buses and smart roads if your system can't support it right now. Start small, work with your system and grow towards sustainable urban mobility. Here are some small steps you can begin with:
Invest in traffic management solutions that enable you to visualize your sustainable urban mobility project
Add better monitoring systems to public transport to keep women and children safe when using them, which encourages them to use them more.
Use marketing and rewarding tactics to incentivize residents to use sustainable alternatives