As new mobility solutions flood cities, so do the challenges. But technology provides clarity for cities looking to optimize their transportation. Ahead of TRB Annual Meeting 2020, here are 5 examples of how North American cities get the most out of traffic modelling and prediction.
Washington D.C: getting ready for platooning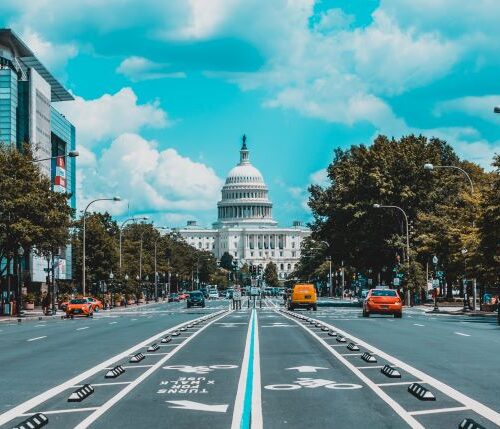 Platooning is quickly becoming a reality on our roads. It will be a major topic at the upcoming TRB Annual Meeting 2020. Platooning is, in practice, vehicle-to-vehicle communication that improves how groups of vehicles travel together. For example, a convoy of trucks equipped with platooning technology can start and stop all at the same time. The benefits are clear: less congestion and better traffic flow; reduced fuel consumption and emissions; and improved safety and comfort for road users.
Questions remain, however, about how vehicles with platooning technology will behave next to other vehicles and on roads with managed lanes strategies (for example, lanes for high occupancy vehicles, to reduce congestion). To answer that, researchers from the University of Delaware and the New Jersey Institute of Technology took to the roads around Washington D.C.
Using simulations including PTV Vissim software, the researchers observed an 8-kilometer-long section of I-66, a major commuter road outside the American capital. This 8-lane section includes a lane for vehicles with high occupancy.
Through these simulations, it is now clearer if and how vehicles with platooning will be able to safely travel on "mixed" roads and on roads with lane strategies. This clarity is crucial for the car industry and for authorities, as they prepare for entry of platooning technology into our roads.
Moorhead, Minnesota: co-existence that works
Since the early days of trains, their passage through residential areas created conflict with other road users. This conflict is no-less visible in the metropolitan area of Fargo-Moorhead, along the Minnesota-North Dakota border.
60-75 trains pass daily through downtown Moorhead, as part of the crucial connection between the Twin Cities, Duluth, and the West Coast. The 9 at-grade train crossings (same-level crossings) along downtown Moorhead are a major cause for delays for drivers, cyclists, and pedestrians. With downtown redevelopment underway, traffic volumes are expected to go up and the situation to worsen.
Tackling this challenge is Joe DeVore, part of a team of engineers and planners at KLJ, who are assisting the City of Moorhead in addressing these multimodal issues. By using PTV Vissim software, DeVore was able to quantify the operations and safety benefits of a major grade separation project. The simulations considered both the benefits to the existing conditions, and the increasing train and traffic volumes expected by 2045.
If the grade separation is implemented, DeVore predicts that traffic flow through downtown would improve by around 20% with safety seeing a 30-40% improvement. With this project, downtown road users would be saving more than 700 hours of waiting times – every day!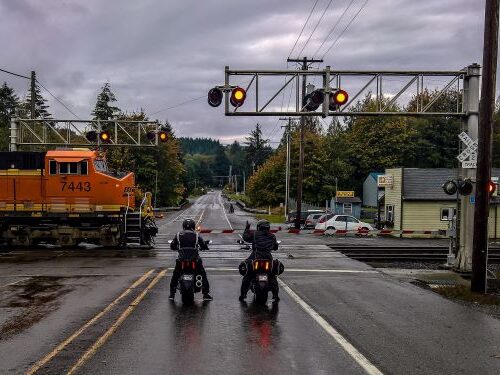 Conroe, Texas: Traffic lights speak to cars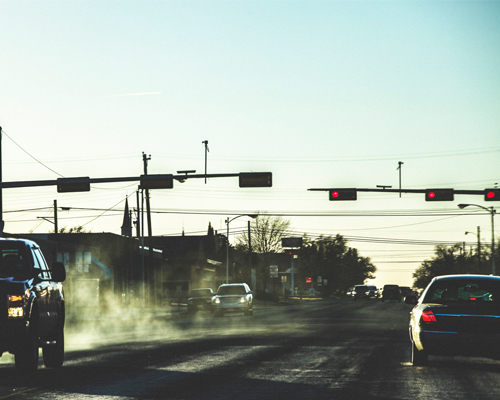 Wherever there are traffic signals, road users can expect delays because of red lights. But these delays can be reduced thanks to new technology.
Vehicle to Infrastructure (V2I) communication is about connecting signal controllers operating traffic lights, to the vehicles in its vicinity. V2I looks promising enough, but can it really work?
An analysis by car-makers' consortium CAMP LLC and several American universities, is addressing this question. Using PTV Vissim software, the researchers simulated the effects of a V2I technology on 15 intersections around Conroe, Texas called Traffic Optimization for Signalized Corridors, or TOSCo. They analyzed how vehicles behave near intersections with V2I technology, and the effects on congestion, emissions, travel times and road capacity.
TOSCo coordinates speed and acceleration/deceleration of vehicles near an intersection, to align their arrival at an intersection with the green status of the traffic lights. Simulation of TOSCo with PTV Vissim indicates that TOSCo could improve road capacity and reduce the number of stops and stop delay.
Simulation of TOSCo indicated enough positive benefits of V2I for researchers to move to the next phase, field testing. The goal of smooth travel around intersections seems closer than ever. It will definitely be a top issue at the upcoming TRB Annual Meeting 2020.
Toronto, Ontario: iconic streetcars make the right stop
Since its founding in the 19th century, the majority of the Toronto's 83-km streetcar network runs down the middle of four-lane roads in mixed traffic; and the vast majority of stops lack dedicated waiting platforms. At these stops, boarding and alighting passengers must walk across the curb lane, blocking this live lane of traffic. Due to the rarity of this situation, most analysis tools are unable to model this situation accurately.
A new study aims to change this situation, through programming that complements existing simulation tools. This could lead to a more realistic understanding of the delays and congestion faced by transit service and motorists.
Jacob Louie, a civil engineer-in-training at professional services firm WSP, recently examined the behavior of motorists that must stop around the streetcars. He observed that motorists in the curb lane begin braking before the streetcar itself comes to a stop and remain stopped when the streetcar doors are opened. This occurs even if traffic congestion prevents the streetcar from stopping at the exact location of the stop it serves. Motorists also proceed at full speed after the doors close, even if the streetcar remains stopped. Louie then developed a Python program, to be used with PTV Vissim software, that simulates all aspects of this behavior.
The result? A new tool that replicates the thought-processes of motorists and simulates traffic around "blocking" streetcars more accurately. The tool can also be adapted to reflect the aggressiveness of local traffic in different neighborhoods. With this tool, authorities can get a more accurate picture of roadway conditions, and work on mitigation measures that take real-world conditions into account.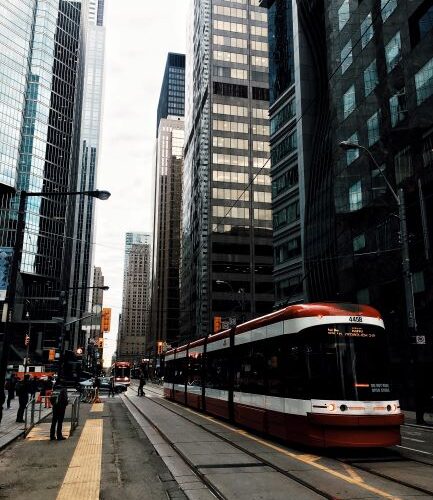 Airports across the U.S: ending the drop-off chaos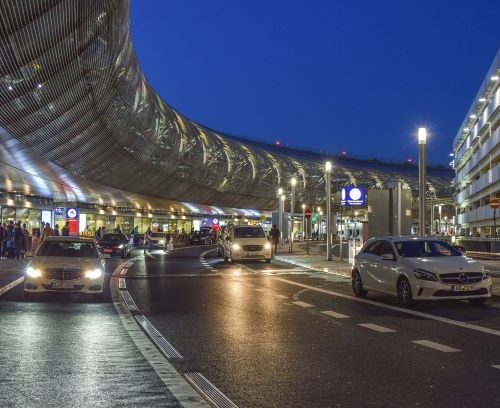 Most of us are familiar with this airport experience: the roadways next to the terminal building are always packed with vehicles; traffic is slow and parking nearly impossible. Indeed, this area of the airports has long been recognized by traffic engineers as problematic. Yet, solutions are so far hard to find and implement.
Curbside roadways are a unique class of roadways. Unfamiliar drivers mix with taxis and shuttles, as well as passengers with luggage saying goodbye to friends and family. Traffic there is slow, as drivers read signage to find their destination, attempt to park or simply avoid hitting pedestrians. Double and triple parking are common.
Existing models to improve traffic in the curbside roadways have had limited results so far. So, Gustavo A. Ceballos and Alex Chambers of the business consultancy Ricondo decided to take a different approach. By using traffic simulation models, created by PTV Vissim software, they were able to improve the way traffic flows are planned at airports. For example, planners now give more consideration to where and how pedestrians cross the curbside roadways on their way in and out of the terminal. The movement of those pedestrians, of course, affects the vehicle flow.
Thanks to modelling, planners and decisionmakers better understand the impact of various scenarios on curbside policies and the quick growth of Transit Network Companies.