Today, data is generated everywhere in the mobility sector. These extensive, intricate, and rapidly evolving data systems hold the pivotal role in unleashing the complete potential of a transportation system that is sustainable, efficient, accessible, and safe.
"The comprehensive understanding of data enables evidence-based decisions that lead to improved infrastructure, reduced emissions, and enhanced user experiences", explained Christian U. Haas, CEO of PTV Group and Econolite, united under the new brand Umovity, in an recently published article on LinkedIn. "Both PTV and Econolite have long-standing foundations in advocating for and pioneering the use of data to transform mobility. Together, our solutions are proving to be the critical enablers for how transportation ecosystems are planned and deployed for a more sustainable and accessible mobility future."
Real-time data in traffic management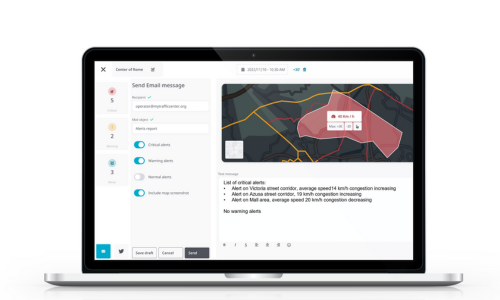 Take for example PTV Flows. The new innovative cloud tool for real-time traffic management analyzes historical and current speeds. By identifying patterns and trends, the self-learning system generates forecasts of unexpected congestion up to 2 hours in advance. PTV's CEO explained: "We've designed PTV Flows with cities and road authorities in mind that don't have the time or the resources to set up and maintain an advanced traffic management infrastructure. This will help focus efforts toward optimizing mobility."
Big data in model building
Another example is PTV Model2Go. The PTV's superfast technology to automize the building of standardized transport models is powered by Big Data sources and Machine Learning (ML). Only recently the second version was launched: With PTV Model2Go Demand, historic traffic demand data provided by TomTom is now directly integrated.
"Model2Go drastically reduces the time, effort, and cost of model-building, making model-based decisions viable even for small projects. With the integration of origin and destination (O/D) traffic data, we've taken our out-of-the-box models to new heights. Users can directly implement a wide range of common traffic and mobility analyses," said Christian U. Haas. "The foundation of advancing our technologies lies in dependable data. Hence, reliable partnerships, collaborations and initiatives in this domain hold immense significance for our work."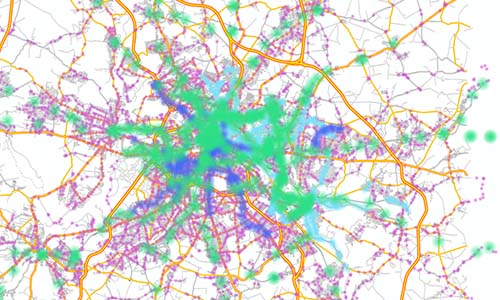 New standard for open map data
For this reason, PTV has only recently joined the Overture Maps Foundation – the first German company to do so. The nonprofit organization, which was founded by TomTom, Microsoft, Amazon Web Services, and Meta in December 2022, aims to create a new standard for open map data. The comprehensive, accurate, and extensible real-world map data set will be available for developers under an open data license. Overture members therefore combine their resources, data, and technology. PTV will join the Schema Working Group to advise on the data schema for comprehensive, accurate, and extensible real-world map data.
Christian U. Haas: "A new collaborative standard presents abundant potential, particularly in expediting and streamlining the process of model development in the future. That's why we are looking forward to supporting this initiative with our expertise in multimodal modeling and simulation, as well as map development and mobility data. I am convinced that something great will emerge from the interplay of the different Overture partners – as in music, where the overture marks the opening of a symphony."