Limassol is a beloved holiday destination for hundreds of thousands of tourists annually. With its beautiful beaches and romantic old town, Cyprus's second-largest city is a relaxed Mediterranean resort. But a closer look reveals serious transportation challenges for its residents, visitors, and the many foreigners living there part-time.
In Limassol, more than 90% of trips are carried out by cars, leading to congestion, pollution and noise hazards. Its main assets – the beach and seafront promenade – are separated from the city by a four-lane road, heavy on traffic and difficult to cross. Meanwhile, the old town with its heritage buildings is flooded by moving and parking vehicles. For pedestrians, walking and accessing facilities there is challenging and unpleasant, even dangerous.
With transport in Cyprus being dominated by cars, more than in many other developed countries, a real change was needed to improve mobility. That is why local authorities decided to change course and start working on a Sustainable Urban Mobility Plan (SUMP).
What is a Sustainable Urban Mobility Plan?
A Sustainable Urban Mobility Plan (SUMP) is more than a traditional transport master plan. It combines traditional planning components with deep involvement of all the different stakeholders. This is done through committees, workshops, and information and awareness campaigns.
In the case of the SUMP Limassol, planners tailored a plan for this metropolitan of 250,000 residents, plus many tourists.
In line with SUMP principles, the Limassol plan aimed at the participation of all those affected by it: decision-makers, the administration, transport operators, the media and most importantly the mobility users. Among other steps, a 19-member stakeholder committee was established, and five large public participation events were held.
Those events focused on the goals of SUMP Limassol and the best ways to implement the plan. They resulted in a clear vision for the future of the city: increased road safety, improved accessibility and social inclusion, better quality of life, environmental sustainability, economic efficiency and innovation.
What is SUMP Limassol?
The most important tool for the development of SUMP Limassol was a metropolitan-wide transport model, developed with PTV Visum software. The huge amount of data, required for this model, was gathered through household surveys, roadside interviews and traffic counts. The model enabled planners to analyse current traffic conditions, as well as have a look into future scenarios.
Many aspects were considered through modelling: from management of traffic in the city centre and integrating public transport; through welfare and safety of pedestrians, cyclists and drivers; to freight logistics and Intelligent Transport Systems (ITS). Special attention was given to how behaviour of residents and visitors can become more socially, economically and environmentally sustainable.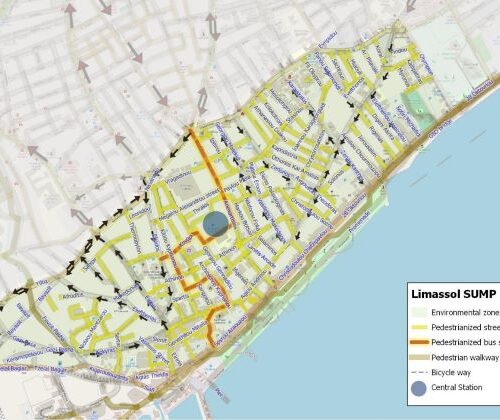 Carrots and sticks of SUMP Limassol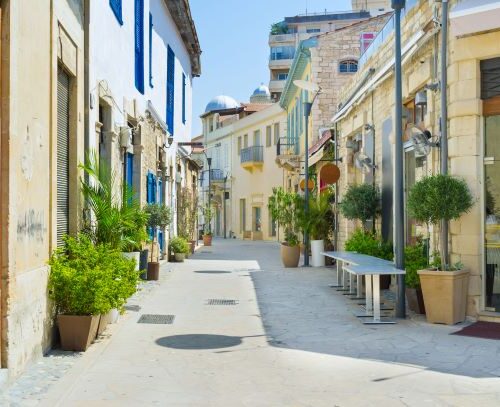 A major aim of SUMP Limassol is creating real alternatives to car use. A planned state-of-the-art public transport system will have clear line structure, easy interchange possibilities and a central bus terminal in the heart of Limassol. It will be supplemented by an inter-connected network of bicycle lanes covering the whole metropolitan area.
Walking will also be encouraged: the old town in central Limassol will become a fully pedestrian area. The only vehicles allowed there will be buses, delivery services and those belonging to residents.
SUMP Limassol also aims to motivate car drivers to change their mode of transport: there will be less parking spaces in the city centre, and access limitations to the pedestrianised area; the city will hike parking fees by a three-fold and there will be strict enforcement; authorities will also reduce parking space along the seaside boulevard.
When will SUMP Limassol be implemented?

The implementation of SUMP Limassol depends on the phases following this planning project. Public transport service contracts are to be re-tendered in 2020. This is a good starting point for the implementation, which includes overhauling the bus network to attract more passengers.
The plan, so it seems, has already gained public support. In particular, younger residents and the students living in Limassol's centre are in favour of the sustainable approach.
It is now up to Limassol's municipal authorities to decide when to start reforming bus transport, setting limits on cars, and allowing more space for pedestrians and cyclists.
The Sustainable Urban Mobility Plan (SUMP) for the Greater Urban Area of the City of Limassol was initiated by the Public Works Department of the Ministry of Transport of Cyprus and the City of Limassol. The project was commissioned to a consortium of PTV Group (Germany), TREDIT SA (Greece) and ALA Planning (Cyprus). It was co-financed by the EU Structural Fund – The Operational Programme Competitiveness and Sustainable Development 2014-2020.