Copenhagen is considered one of the most bicycle-friendly cities in the world. The Danish capital massively promotes cycling and also by using smart software tools. In doing so, Copenhagen is pursuing ambitious goals: By 2025, half of all trips to work or school are to be made by bike. For the Bicycle Playbook, we spoke with Klaus Bondam, director of the Danish Cyclist Federation.
Mr. Bondam, why do the citizens of Copenhagen ride their bicycles that often?
Klaus Bondam: There are a whole series of reasons for this. I think first of all, we have established a tradition of bicycling: In Denmark, cars were very expensive because the government levied a lot of taxes on them. Copenhagen itself was a workers' city. Many people didn't earn very much, so the bicycle was an affordable means of transport. Of course, this changed. Especially after World War II and with the gentrification of the city. Nevertheless, cars are still not the means of transportation for daily use. Today, we like to call private automobiles "Louisiana Autos": The Louisiana is an art museum in the north of Copenhagen. Many people use their cars only to drive to the museum on Saturdays. For we in Copenhagen have the advantage that the city is very flat and the climate is never too hot or too cold to ride a bicycle. And last but not least, across generations, there has been a political readiness to invest in a safe, structurally separated bicycle infrastructure.
How does Copenhagen create this culture of bicycling?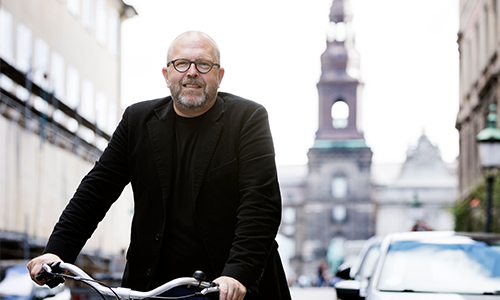 Klaus Bondam: Teaching children to ride bicycles is regarded as the parents' duty. It's just as much a matter of course as teaching them to eat with a knife and fork. Naturally, there are also families for whom bicycling isn't part of their family life; these families use their cars more. But it's important that children get a bicycle early and learn that traffic is a serious subject where you have to be careful – but this also makes children feel proud. Riding a bicycle is one of the first things for which children take responsibility and when they become mobile.
How are bicycle paths built in Copenhagen?
Klaus Bondam: Here, bicycle paths are separated from motorized traffic by a curb. Some places, we also use parked cars to create a kind of protective wall from the traffic flow. In general, however, we believe that a completely separated infrastructure is indispensable for daily bicycling in the city. Currently we're in the process of widening bicycle paths from two to four meters because we have so many bicyclists and not every bicycle is a classic bicycle. Many people are underway on e-bikes today or they use bigger cargo bikes. Bicycling has become more diverse – with respect to the types of bicycles, speed, and also the usage groups. However, it's not just the bicycle infrastructure that's important for safe bicycling, it's also what's around it: To make bicycling safer, we have to slow automobiles down and allow fewer vehicles in the inner city. This creates a lot of political discussions.
How can these political discussions succeed?
Klaus Bondam: If you want to have a public discussion, I believe it is important to develop a common language on the city council beforehand: What are we talking about when we're talking about infrastructure? What does it do for us as a community if we make our environment more bicyclefriendly? From surveys and studies, we know very precisely what the benefits of bicycling are: It keeps people fit, students who ride bicycles do better in school, employees who ride bicycles are absent less often. On the city council, you need a common understanding of the individual issues in order to conduct the public discussion.