During recent COVID-19 lockdowns around the world, significant improvement in air quality has been observed. For a few weeks, the world seemed to be successfully reducing air pollution.
As people stayed home, satellite data revealed much less nitrogen dioxide (NO2) pollution over China, Italy, and many European cities. In Germany, NO2 emissions dropped by 15%-40% at the height of the pandemic, when road traffic fell sharply.
But lockdowns cannot be a permanent way of reducing air pollution. Even before the outbreak of the pandemic, cities were struggling to find the right measures to combat air pollution.
For reducing air pollution, cities have a variety of measures. But what is the actual effect of each measure on the reduction of NO2 levels?
What are the measures for reducing air pollution?
A major contributor to this pollution is road traffic, the main source of NO2 emissions. And the measures for reducing this air pollution in cities are as varied as road transport itself.
For example, speed limits and intelligent signal control systems optimize the flow of traffic. That leads to less stop-and-go and less air pollution.
Electrification of passenger and freight transport also plays a role, and this is a focus of the international Alliance for Decarbonization in Transport.
Of course, reducing air pollution is tied to increased use of more sustainable and active forms of mobility, such as walking and cycling. These forms enjoy a momentum in times of COVID-19.
Different city, different measures
Every urban area is unique. Therefore, when planning to reduce air pollution, each must be examined and analysed individually.
As we recently published in this blog, this is exactly what a team of researchers, named the Air Pollution Control Task Force, did in 2018.
The team examined how different measures for reducing air pollution would affect NO2 emissions in four German cities: Ludwigsburg, Hanover, Heilbronn, and Kiel. The study was led by PTV Group and Dutch research institute TNO.
The researchers predicted traffic volumes, emissions, and the traffic flow as well as NO2 pollution in these cities in 2019 and 2021.
How was the NO2 study done?
The researchers wanted to know how air quality changes when different measures are taken for reducing air pollution. For example, incentives for residents to buy less polluting cars, compared to "natural" fleet renewal (when people are given no such incentives).
In each of the four cities, the researchers developed a model to predict important factors: number of vehicles on the roads; different speed levels; emissions from vehicles; and spread of air pollutants. They used a variety of simulation tools, including PTV Visum transportation planning software, and PTV Vissim.
Thus, the expert team was able to model an entire set of transportation planning, traffic engineering and traffic management measures for air pollution control and assess their impact on traffic for the forecast period.
The NO2 study vs. reality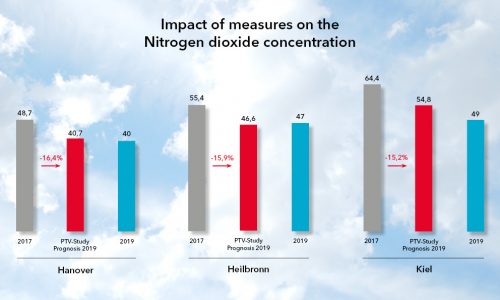 Back in 2018, this study was predictive. But now, the predictions made for 2019 can be compared with actual air quality data from Germany's Federal Environment Agency (UBA).
The actual data showed that in Hanover and Heilbronn, the researchers' predictions were identical to the actual values measured in 2019.
In Ludwigsburg, UBA was unable to provide comparative results. In Kiel, the 2019 results differed from the predictions, because many anti-NO2 measures were only implemented during 2019.
Dr. Uwe Reiter, who led the study on behalf of PTV Group, said it was great to see that the forecast was validated by real-world measures.
"This clearly indicates that our experts can precisely forecast the effects of the various air pollution control measures", he added, "scientifically-based model calculations provide local authorities and policymakers with a valuable basis for informed decision-making".
Dr. Reiter presented the results of the NO2 study in this free-for-download webinar.