Alongside the grim toll of the coronavirus pandemic, a positive side effect has emerged: people are cycling and walking more often. In times of social distancing, these seem to be the safest and quickest choice for getting around in cities. Metropolises such as Bogota, New York or Berlin, reacted quickly by opening temporary bike lanes. Other cities are reallocating street space to pedestrians. Could these measures be leading the way to a more sustainable urban mobility in post COVID-19 times?
Milan wants to reallocate street space permanently
According to a current German study, one in four Germans expect to walk more often after the crisis, and about one in five expects to cycle more. Milan is now the first city to announce an ambitious program to permanently reallocate street space from cars to cycling and walking and thus reduce car use. Under the lockdown, motor traffic congestion has dropped by 30-75% and air pollution with it. Now the North Italian city announced that 35 kilometers of streets will be transformed into bike lanes and walking paths. In other streets, pavements are to be widened and priority given to pedestrians and cyclists. In addition, the city will introduce 30kph speed limits.
For years the Milan City Council has tried to reduce car traffic, Deputy Mayor Marco Granelli told British newspaper The Guardian: "If everybody drives a car, there is no space for people, there is no space to move, there is no space for commercial activities outside the shops."
How to change streets for good?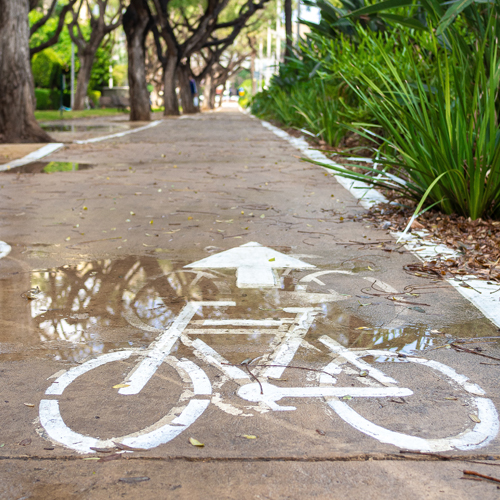 But does the opening of more cycle or footpaths also means that cities automatically become more bicycle-friendly or walkable? It definitely needs to be followed by a long-term change in people's behavior towards active mobility.
Authorities can encourage active mobility by creating attractive connections to other modes of transport, as well as throughout the city road network. It is essential to provide an infrastructure that allows cyclists and pedestrians to reach their destination safely, comfortably and effectively.
Cities are facing numerous questions: Where to build a new cycle lanes or footpath? What will the interaction with other road users look like? How will the new measures affect life in the city? How to provide 'green waves' that make real difference for cyclists? And of course, which measures will guarantee road safety?
Before implementing costly infrastructure projects, it makes sense to test and validate the different measures for the reallocation of street space in a virtual environment. Models can help to realistically simulate and analyze a city's current and future bike and pedestrian traffic and run through different what-if scenarios.