The British city of York is very well-known for its huge Gothic cathedral, the city walls and rich Roman history. The dense city centre – deeply loved by 7 million tourists who visit York every year –poses major challenges to traffic and city planners. As lane capacities cannot be simply increased by widening or adding roads in the historic centre, the city has many bottlenecks, is struggling with traffic congestion, pollution, and difficult accessibility. Therefore, York decided to turn to innovation and cutting-edge technology to tackle these challenges. After one year of implementation, York is now the first city in the UK using a real time-transport model for live traffic management.
The new real-time transport model is one key component of the city's Smart Travel Evolution Program, STEP. The program, launched in 2018 and funded by the UK Government, focuses on digital approaches to development planning and traffic management – not just physical infrastructure. At its core is a data platform, which brings together all kinds of relevant mobility data from different sources with the aim to improve connectivity to future-proof how the city deals with changing levels of demand.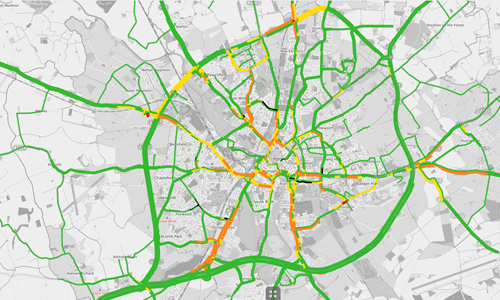 "These data are the base for live traffic management", explains Michael Oliver from PTV Group, who was responsible for the successful deployment of York's real-time transport model. "Our Software for predictive traffic modelling, PTV Optima, is integrated with over 100 live traffic flow sensors, 100+ live signal controllers, live speed data across the network provided by TomTom, and up-to-date information about roadworks and other network changes."
The tool combines these live traffic data with an offline dynamic transport model.
"Similar to the way weather forecasts work", says Oliver. "The current traffic conditions are constantly updated and can be forecasted up to one-hour ahead. This forecast provides the control room with a coherent and detailed picture of the whole current traffic capacity."
Traffic managers can constantly monitor all roadways. They get a detailed overview of what is happening in the entire network – not only of locations with sensors or CCTV. The model identifies the best scenarios to manage congestion, road closures or construction sites and allows the control room to test alternative scenarios for the next hour ahead, next day, or weeks in the future.
The City therefore has an operational road modelling asset for monitoring current conditions, planning for the near future, observing how plans play out, and using this knowledge to improve future strategies.
"Before STEP, junctions would be modelled as best as possible; tested and adjusted by observation when implemented, followed by Network Monitoring Officers (NMO) keeping an eye on CCTV, Twitter and social media for any incidents or congested traffic. This last bit was mostly reactive, and every second counts with network capacity", explained STEP project manager James Guilliatt in an interview with the magazine TransportXtra. "Optima, as part of STEP, now gives us prediction and alerts that can inform the NMOs well before crisis point, so interventions can be made earlier and more effectively, for example bringing the PM peak signal plans on sooner if an unexpected early peak is happening. A sort of prevention rather than a cure."
Dave Atkinson, Head of Programmes and Smart Place at City of York council, also draws a positive conclusion a few weeks after the project went live in June 2021: "At this early stage it's already proving to be a success. We're able to predict future traffic levels based on our live traffic behavior and manage the flow of traffic better in busy periods by adjusting traffic lights to best suit traffic conditions."
The new strategy and real-time transport model will be actively maintained for at least the next six years – with many possibilities of expansion.
Michael Oliver concludes: "Currently the real-time transport model is used for car traffic only. In the future an integration with real-time public transport feeds might be another great option. Live bus location data could be imported into the software so that traffic managers could see where buses are in real-time, along with their current delays, and use this information to support decision making on where, when, and how to prioritise interventions."