Climate change and rising energy prices are placing increasing focus on the need to rapidly expand public transport services. Topics such as improving service quality, coverage and accessibility are on the agenda of many public transport companies. To tackle these challenges, PTV Group is launching PTV Lines, a web-based tool to digitize and simplify public transport planning processes.
"Public transport today faces numerous challenges. Operators need quick results to assess the impact of changes on public transport supply," said Farnaz Tepper, product manager of PTV Lines. "Today, planning is still often done with pen and paper or Excel applications. The pandemic, if nothing else, has clearly demonstrated that this is no longer appropriate, when timetables and connections had to be adapted to ever-changing conditions. Today, planners must be able to respond promptly to events, changing regulations, and lack of staff, to provide quality services. This is hardly possible with the former methods."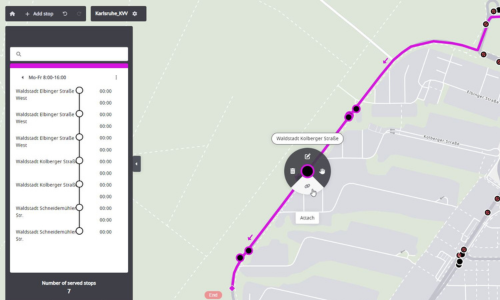 The new digital tool empowers planners and operators to shape new and existing public transport lines, without requiring expert knowledge in complex planning software. They can quickly test different ideas and new measures and understand immediately the effects of network and timetable changes.
Here's an example of how PTV Lines can be used: A major event is coming up or a construction site is planned next to the route of a bus line. The web tool helps to detour this line effortlessly. In another example, when schools are closed for summer vacation and less public transport service is required, a few clicks are enough to adjust the service and provide the operating costs.
"With PTV lines, planners can easily compare and evaluate numerous planning scenarios, and make reliable decisions based on facts", explains Farnaz Tepper. "The intuitive usability makes it easy to set up and edit stops, line routes and timetables and to visualize ideas. This is becoming increasingly important in exchanges with various stakeholders. Results can be easily shared via link and interactively shown to decision makers, operators, or a public audience. In addition, the digitized planning process helps to work more productively, reduce errors and improve collaboration between teams."
This becomes particularly interesting when PTV Lines is used as a starting point in the early phase of service planning and the results are exported and used by the next team in another tool. For example, for a more in-depth analysis or further planning steps.
Farnaz Tepper concludes: "Like Visum, PTV Lines is based on sophisticated algorithms, but users can start working with the tool without extensive training.  We are continuously expanding the scope of functionalities, including the addition of accessibility and demand analyses."