To access the education system, students must get to school safely and on time every day. When relying on school buses, an effective transport network plays an essential role. In Europe, buses, coaches, and minibuses are major modes of travel for children. In the US, 26 million children daily take the buses to and from school. Maintaining safe and efficient school transport operation is a demanding task. The current pandemic posed additional challenges to school bus operators. An example from Dubai shows the complexity of the logistical planning of school bus routes and networks, and how technology can improve the process.
STS School Transport Services is the largest private school bus provider in the United Arab Emirates (UAE).  The company transports more than 80,000 students daily, offering a door-to-door service from home to school and back – not only in Dubai, but across the national borders of six out of seven Emirates. It uses over 2,800 buses for its operations.
Naturally, numerous factors must be considered to plan the student transportation and thus the school bus routes: The number of students; their pick-up points; the expected journey and arrival times; different road types and speed limits in the Emirates; and the traffic conditions during travel times. Hard to believe, but until recently the company managed the routing with pens, papers and simple Excel sheets.
"Planning the routes for around 3,000 buses was becoming a very challenging task for us", explains Heena Shaikh, Head of planning and performance at STS. "Our dependency on the experience and expertise of our drivers was very high."
Planning tool to optimize school bus routes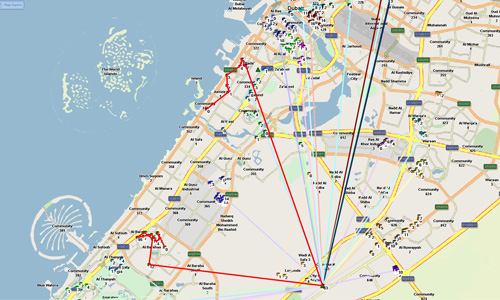 But in 2019, STS decided to switch to a professional tool for route planning. It chose PTV Route Optimizer, a software that is normally used to optimize logistics processes. A team of PTV experts worked closely with STS to understand its business requirements and configure the system accordingly.
Heena Shaikh says: "Route planning for school services is difficult and is different from the point to point carrying of goods in logistics. What we carry are very precious goods – students. And our service needs to be smart, on time and safe above all."
When setting up the system, special attention had to be given to the safety of students at pick-up and drop-off points, as well as to maximum times they are allowed to spend on buses. It was important to use the optimal number of buses and limit travel distances, in an effort to ensure children's well-being and safety and to reduce costs.
"One of the major things that has changed since we use the software is that we have reached a higher efficiency", says Heena Shaikh. "The software supports our transport plans by combining designated meeting points into optimal school bus routes. We are able to reduce the number of vehicles needed. Saving a bus also means saving all other additional costs like fuel, tolls, permits, drivers' shifts, bus guardian salary etc. This leads to a saving in terms of money as well as leads to a reduction of our carbon footprint."
In addition to the reduction of vehicles needed, we have seen a decrease in KMs. Optimizing the school bus routes, lead to shorter driving times, and increased punctuality.
Customer satisfaction
"One of the biggest benefits is the customer satisfaction", says Heena Shaikh, "As a parent, you do not want your child to be on the bus for too long. With the most efficient route plan, the child is traveling on bus less. The parents are satisfied and encourage other parents to join the transport".
Shaikh added that STS benefits in many other areas: "For example, when a new school is entering the system and we negotiate the contract basis how many buses can be optimally used. Having the number of students probably using our transport service, we can offer the best price, because we know already how many buses we will need."
Route optimization software enables to plan dynamically, which is also useful during the current pandemic. "Covid-19 has presented us with many new challenges", Shaikh says, "In our regions the schools let parents decide whether their children will attend face-to-face learning or will learn online. There have been many restrictions on school buses: The numbers of students allowed on a bus have been reduced by half. This made planning very difficult. But by using the PTV Route Optimizer intensively for each school, we are able to adapt quickly to the new regulations."
Route planning software
Whether in logistics or in school transport, learn how PTV Route Optimizer software can boost your operations
[ult_dualbutton button1_text="Get your free eGuide: Route Planning Software" icon_link="url:https%3A%2F%2Fyour.routeoptimiser.ptvgroup.com%2FWhitePaperDownload%3Futm_source%3Dwebsite%26utm_medium%3Dslider%26utm_campaign%3Dgroup_ro_routeoptimization-nurture%26utm_content%3Dro-productpage|title:Intermodal%20transportation%3A%20old%20hat%20in%20the%20digital%20age%3F|target:_blank" btn1_background_color="#ffffff" btn1_bghovercolor="#d93344″ button2_text="Read the entire STS Success Story" btn_icon_link="url:https%3A%2F%2Fcompany.ptvgroup.com%2Ffileadmin%2FResources%2FResources-Library%2FEN%2Fsuccess-stories%2FPTV-Group_Success-Story_PTVRouteOptimiser_STS2020.pdf|title:Transport%20planning%20for%20COVID%3A%20How%20American%20cities%20relaunch|target:_blank" btn2_background_color="#ffffff" btn2_bghovercolor="#d93344″ divider_text_color="#ffffff" divider_bg_color="#d93344″ btn1_text_color="#d93344″ btn1_text_hovercolor="#ffffff" btn2_text_color="#d93344″ btn2_text_hovercolor="#ffffff" title_font_size="desktop:20px;" btn1_heading_style="font-weight:bold;" btn2_heading_style="font-weight:bold;"]