Lisbon is the European Green Capital 2020, and for a good reason: The Portuguese capital has long pursued the vision of becoming a sustainable Smart City. When Lisbon was awarded the title, an expert panel highlighted the city's strengths in climate change adaptation and sustainable urban mobility and transportation.
Lisbon has a clear vision of giving the city back to people. In terms of mobility this means restricting care use and prioritizing sustainable modes of transport, like cycling, walking and public transport.
Here are a few examples:
In 2017 Lisbon launched a bike-sharing scheme, with electric bikes comprising two thirds of the fleet to encourage cycling in the hillier parts of the city.
Over 90% of residents in Lisbon live within 300 meters of a frequent public transport service.
The city has one of the world's largest networks of electric vehicle charging points, while 39% of the municipal car fleet is electric
Reshaping street space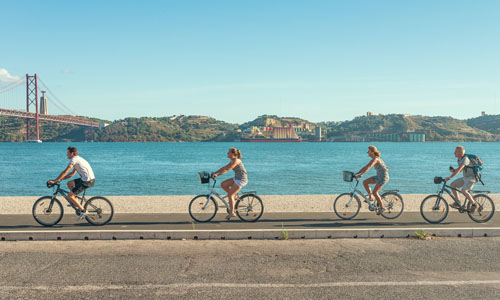 "The city wants to educate its citizens, that the street space belongs to them and not only to cars", explains Paulo Humanes, PTV Group's Vice President for Business Development and New Mobility, who is originally from Portugal. "This is why they temporarily close whole avenues to bring the community out. And the COVID-19 crisis has now even accelerated things in that direction."
Like in many other European cities, Lisbon is using the pandemic to reshape streets. Car parking spaces are removed and replaced with outdoor cafes and restaurants. Lisbon's Mayor ordered a city-wide speed limit of 30 kilometers per hour, and an expansion of the bicycle lane network by up to 200 kilometers by 2021.
And cycling in Lisbon is subsidized: Citizens can get a €100 vouchers to buy standard bicycles, €350 for e-bikes, and up to €500 to help pay for cargo bikes.
One of the biggest projects for the Lisbon Green Capital is the ZER – Reduced Emissions Zone in the neighborhoods of Avenida and Baixa, Chiado. Various measures are implemented there, for example limited access for cars and reduction of parking spaces; enlargement of sidewalks and creation of new bike lanes; reinforcement of public transport; and creation of logistic hub to the downtown area.
"Lisbon has been very forward-thinking and future oriented in the last years", says Paulo Humanes, "We at PTV have been involved in many innovative projects there and the local mobility company EMEL is using our planning software PTV Visum and PTV Vissim. Already five years ago we did the famous Lisbon study together with the OECD's International Transport Forum and looked at the question how shared, autonomous vehicle fleets will affect cities, the number of cars, rides and parking lots. The city is definitely one of the pioneers in Europe when it comes sustainable mobility and urban life."