Today, large, complex, and fast-moving data systems are generated everywhere in the mobility sector. A wide variety of sensors and computing devices are deployed to monitor traffic flows and public transport. Millions of citizens are using location-based applications. Our cars are becoming increasingly connected. In addition, new mobility services are increasingly shaping the urban mobility landscape and leading to massive data volumes. There is a lot of potential in this data to make mobility more efficient, sustainable, and safer. However, this potential still remains largely untapped. The new Horizon Europe research project EMERALDS now aims to exploit the potential.  
"EMERALDS brings together experts in Data Science, Data Engineering, Urban Mobility as well as stakeholders from public authorities from 10 European countries", says Charlotte Fléchon from the PTV Research Team, one of 16 consortium partners. "The aim is to develop a Mobility Analytics as a Service (MAaaS) toolset to improve data processing and analytics capabilities, enhance data security, and facilitate data sharing. Thus, enable data-driven decision making in cities."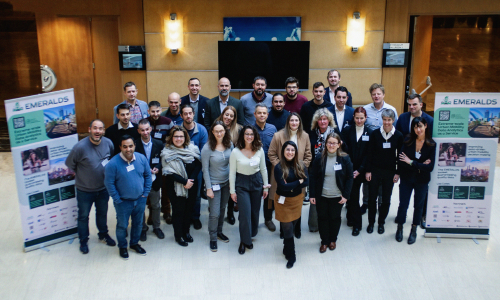 EMERALDS Coordinator, Foivos Galatoulas explains on the EMERALDS website how the project team will proceed: "By advancing state-of-the-art extreme data mining, aggregation, and analytics technologies and integrating them with urban mobility and transportation domain expertise, the project presents an unprecedented opportunity to achieve impactful end-to-end solutions to real-life problems. The project uses advanced technologies, including AI, Big Data, and edge/fog/cloud computing, to explore new pathways on spatiotemporal data analytics, providing urban mobility operators and planners with advanced solutions for extreme-scale mobility data analytics tools and services." 
PTV Group's role in the project is to develop an Extreme Scale Map Matching tool which uses vehicles GPS data to estimate trajectories and network speeds.  
"In a second step, the Map Matching will be integrated in our new cloud-based software PTV Flows which we'll only launch in July", explains Charlotte Fléchon. "The cost-effective and hassle-free real-time traffic management solution visualizes problems in the road network and can detect or predict unexpected congestion. In a third step, PTV Flows will then be used to build a showcase for the UK city of York, who is already using our software PTV Optima."  
Data analytics for urban mobility planning is necessary to develop efficient resource management and infrastructure in cities. To show the possible applications of the EMERALDS toolkit for transportation engineers, urban planners, and policy makers, different use cases are being carried out in the pilot cities of The Hague, Utrecht (Netherlands) and Riga (Latvia). For example, for the Riga use case, the team will use a traffic data analysis toolset to analyze and forecast passenger travel behavior and optimize the public transport network, making it more attractive to the user. 
EMERALDS Coordinator, Foivos Galatoulas summarizes: "The outcomes of EMERALDS can assist in evaluating prospective or existing transport infrastructure with varying resolutions, infer which mobility modes can enhance service quality in transport networks while delivering trip demand, event occurrence, smart routing, and traffic congestion predictions with improved accuracy. "