A large number of companies from different sectors already use a route planning system for operational planning. Every day they succeed in generating efficient route planning in a short time. But did you know that the same route planning system can also be used for tactical and strategic level planning?
Operational route planning
Operational route planning is what your planners do every day: compose efficient routes based on the orders received. A route planning system enables planners to plan faster and more efficiently, especially in complex situations with many restrictions. In addition, the end result is better, simply because the planning algorithms see possibilities for combinations of orders that even the most experienced planners overlook.
To be able to use a route planning system efficiently for daily planning, a link is required with the software in which the orders are recorded. This can be an ERP or transport management system (TMS). Only if the data from this system is correct, the route planning system can generate an efficient and adequate planning.
Operational route planning – also called active planning – is crucial for companies operating in fine-meshed distribution or urban distribution. The benefits of using a route planning system:
More efficient use of the available vehicles
Faster switching and rescheduling in unexpected situations
Spend less time on planning, more time for customers and drivers
Tactical Route Planning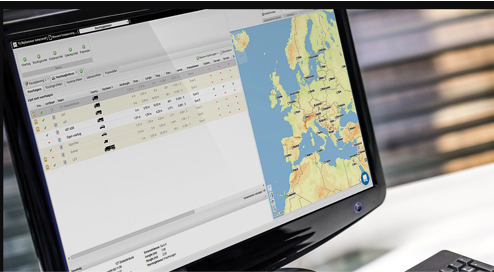 Many companies have runs that return daily, weekly, or monthly. Tactical route planning is mainly aimed at this: how can we create a basis with fixed routes? Regular runs prevent planners from having to reinvent the same wheel every day. In addition, fixed journeys increase the reliability and quality of the service.
In tactical route planning, a plan is made for several weeks or months based on a large number of recently completed runs. What are the patterns that keep coming back? The route planning system uses this as the basis for a proposal with fixed routes.
Will the situation change over time, for example because certain stops are cancelled or because volumes are growing? Then the route planning system can quickly calculate whether the division into fixed routes is still the most efficient.
Tactical planning is often used to improve customer service. Suppose a customer complains over and over that the vehicle with their order arrives late. The planner can use the route planning system to look for structural solutions. What is the effect if he transfers some orders from this route to another route? Will the chance of delay decrease?
Because operational planning often requires all the attention, many companies leave too little time for tactical planning. A route planning system can save a lot of time, which planners can use to look at the planning on a tactical level. This offers many advantages:
Structural improvement of operational planning.
Better take into account the wishes of customers.
Respond adequately to future developments.
Strategic Route Planning
Sometimes it is time to stop and evaluate if the path taken is still the right one. Is the existing distribution network still satisfactory? Is an additional distribution centre necessary and, if so, at which location? Are the current depots still in the most convenient locations? Current developments often give rise to new strategic choices, such as expansion of activities, a new large customer or rapid growth in volumes.
A route planning system helps to make the right strategic choices. Simulation makes it easy to calculate the effect on transport costs if a depot is deleted or added. The system quickly shows which geographic location will lead to the lowest transport costs for the new distribution centre.
Now that the world is changing faster and faster, companies are forced to review the current distribution network more often. Anyone who uses a route planning system for this can benefit from the following advantages:
Respond proactively to major changes in business operations.
Calculation of the optimal location of a distribution centre or depot.
Making strategic choices without external help from a consultancy.
More on route planning and optimisation software
Five tips on choosing the right route planning software
Check out five tips to help when choosing route planning software here
Rising fuel costs: How logistics companies can save money
With the increase in fuel costs adding to pressure faced by logistics companies, read more on how to save money
Driver shortage: How PTV Route Optimiser helps logistics companies
Another factor affecting the logistics sector is the driver shortage, PTV Route Optimiser can help logistics companies overcome this, read more