Climate change, the war in Ukraine, the pandemic – the geopolitical events and crises of the last few months have repeatedly brought the importance of resilient supply chains into focus. Today, logistics service providers must react flexibly and agilely to defy any disruptions that occur in the transport process. Real-time visibility along the supply chain is vital for efficient transport processes.
What is real-time visibility?
Real-time visibility means that the location of goods can always be tracked during shipment from origin to destination. This kind of visibility is still not granted in all transport processes today. During the pandemic, for example, many supply chains were disrupted due to a lack of updates. Today, many logistics providers continue to face the operational challenges of not knowing where their shipments are at any given moment.
What are transport visibility platforms?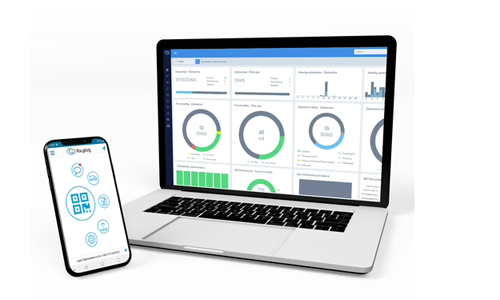 Transport visibility platforms, such as PTV Axylog, are software solutions to digitize and automate the transport and delivery process. Such tools are kind of transport control towers. They enable shippers, carriers, and logistics service providers to keep track of orders, routes, and vehicles in real-time.
Based on vehicle movement data by telematic interfaces and weather data, they calculate the estimated time of arrival (ETA). Through automated paperless workflows, transport visibility platforms enhance process efficiency.
Thus, PTV Axlylog is adoptable to the needs of all types of deliveries – from the first to the last mile (FTL, LTL, CEP). It is suitable for any goods, such as FMCG, food & beverages, and electronics.
What are benefits of real-time visibility?
Platforms for real-time visibility digitize and automate the transport and delivery processes. Thus, they offer transparency and control. Knowing where their truck is and when it is expected to arrive, enables logistics companies to quickly identify disruptions and respond accordingly. The smart use of data and the overview of all aspects of the delivery process enables them to make the right decisions and to measure, optimize and strengthen their supply chain.
Within real-time transport visibility platforms, data and information can be easily shared with customers, carriers, and subcontractors. Thus, it's possible to build close collaboration and communication among the various stakeholders of the supply chain. Tours can be simply assigned, and tour modification be sent to the operator. Electronic proof of delivery (ePoD) data is processed in real-time and transmitted to the responsible person or to leading systems without delay.
In addition, tools like PTV Axylog enable a digital shipping document management workflow. As a result, paper documents no longer get lost on the way, need to be manually scanned, or arrive late.
Overall, real-time visibility helps meet ever-increasing customer expectations. Reliable ETA, fast notifications in case of delivery changes or delays – all contribute to higher customer satisfaction.