How do you get to work every day? In Europe, investments in bike infrastructure and public transportation systems have led many commuters to switch to sustainable modes of transport. But 86 % of U.S workers still use their car to get to and from work – and are even encouraged to do so with parking subsidies. So, how can companies promote more active and sustainable commuting?
In Germany, Cooperate Mobility Management, or CMM, is gaining momentum, aiming to help reduce congestions and emissions. Big companies, like car-producer Daimler and drugstore chain dm actively support their employees in commuting sustainably.
What is Cooperate Mobility Management?
Corporate Mobility Management includes all measures that companies use to optimize and mitigate the traffic flows they generate. "Of course, this includes the daily commute of employees, but also business trips, visitor traffic or the movement within a company premises," says Petra Strauß, who develops CMM concepts as a consultant at PTV Group.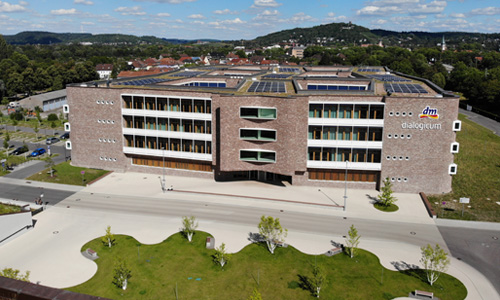 Companies implement Cooperate Mobility Management according to a number of different reasons. For dm, CMM is an important element of shaping an attractive working environment.
"We want to provide attractive travel and sustainable commuting options to our existing and future employees, that can complement or facilitate their day-to-day work," says Philipp Weiger of dm's employee management team.
Cost savings, better accessibility, and reducing parking spaces are other reasons. And, of course, sustainability goals. With Cooperate Mobility Management initiatives, companies can make an important contribution to a more sustainable urban mobility.
"Environmental aspects become decisive for many when choosing an employer. Future-oriented mobility concepts and a good environmental footprint are thus competitive advantages for companies", says Strauß. ", 25% of CO2 emissions in traffic are due to commuting, 17% to business travel. Thus, companies can reduce greenhouse emissions, by deploying smart mobility and sustainable commuting concepts."
During the construction of the new dm headquarters, which opened in Karlsruhe in 2019, the topic of sustainable commuting and travel management was considered from the very beginning.
Tanja Wolters from Facility Management at dm explains: "Already during the planning phase, we focused on the connectivity of the new site. We wanted to be easily accessible for all employees and it was important create the appropriate framework to suit every mobility profile."
For example, in the planning of the building an additional entrance was taken into account to enable the shortest possible distances for employees who commute by train. In addition to classic car parking spaces, dm installed parking spaces with e-charging stations and a large, covered bicycle garage. There is also a tool service station and charging infrastructure for bicycles.
"The initial fear that the car parking spaces would not be sufficient was quickly dispelled. In contrast, the bicycle garage reaches its capacity limits when in full operation," says Tanja Wolters. "Many colleagues have switched to bicycles. This may have something to do with the fact that we have been offering bicycle leasing since 2021, or with the fact that showers, changing rooms and a drying room are available. For this reason, we are currently also testing and examining expansions in this area."
How to implement Cooperate Mobility Management initiatives
Every company is different, with different requirements, individual demands and needs regarding transportation. This should be considered when developing a concept for Corporate Mobility Management.
"Before concrete measures can be worked out, the first important step is to determine the company's ecological footprint. Online surveys of employees can be used for this purpose. They also provide important information on the potential for improvement," explains Petra Strauß.
A wide range of measures can then be developed, such as:
incentives for the use of bicycles or public transport,
corporate car sharing or ride sharing offers
information campaigns to raise awareness among employees.
Petra Strauß and her team support companies in developing and implementing concrete methods and measures and in applying for funding. She adds: "Corporate mobility management can make an important contribution to promote sustainable commuting and thus reduce congestions – especially if companies, employees and mobility providers pull in the same direction."