Climate change resulting from human activities is no longer a hypothesis but a certainty. While transport is far from being the only activity contributing to emissions, it plays an important role in the energy transition. The transport of people and goods causes 24% of global CO2 emissions and is the fasted growing sector worldwide. By 2050 the share of transport  emissions could even double, not only because of dependency on fossil fuels but also due to growing demand for mobility and freight transport. In 2018, the Alliance for the Decarbonization of Transport (TDA) was launched to accelerate the traffic transformation and to bring emissions from freight vehicles down to zero.
The COVID-19 crisis has highlighted, for example, how essential transport flows are to economic activity. To reconcile economic and environmental imperatives in transport policies is complex. There are many possible ways to diversify and reduce energy consumption in logistics: circular economy, multimodal transport, optimizing loading to reduce empty runs, increasing energy efficiency, transition to renewable energy, and modernization of urban logistics.
The plurality of possibilities shows that this is a matter for everyone. There is not ONE single miracle cure that would constitute the axis of a strategy, the key lies in the complementarity of different levers that reinforce each other.
Climate change is a global phenomenon that can only be solved on this scale. The harmonization of foreign policies in the areas of transport, energy, and the environment is imperative. And for this reason, initiatives are launched worldwide and bring together people and organizations determined to tackle the challenge.
Energy transition: International alliance
The idea of an Alliance for the Decarbonisation of Transport (TDA) emerged in Paris in December 2017, during the "One Planet" summit organized by the French President Emmanuel Macron. It brings together the "3 Cs" – countries, cities, and companies – with the aim of making mobility sustainable and low-carbon and to contribute to the energy transition.
So far, several countries joined the initiative, such as France, the Netherlands, Finland, and Costa Rica; as well as diverse cities and regions – for example California and Scotland, Lisbon and Rotterdam. Companies which joined include DHL, Michelin and PTV Group.
TDA focuses on three areas: urban freight, transport decarbonization, and education on transport decarbonization. Members meet and exchange information on best practices, common challenges, and above all, solutions. This approach allows contributors to work together on innovative pilot projects and to identify pragmatic solutions.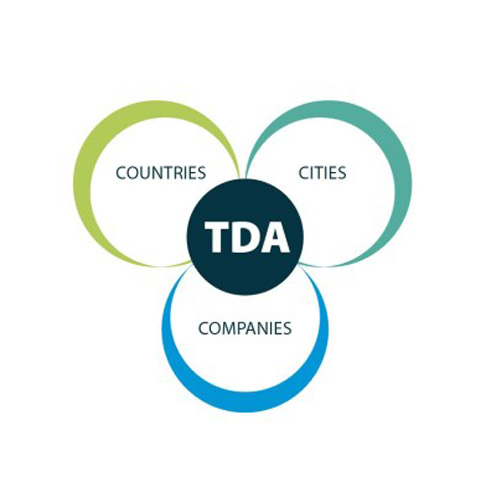 Zero-emission urban freight
PTV is involved in the Urban Freight working group, which faces many obstacles on the way to zero-emission transport. A major obstacle is the complexity of logistic operations in urban areas, in a fast-growing sector with low profit margins.
In addition, it is often unclear who of the "3Cs" should take the lead in "cleaning" transport, leading to a reluctance to share data transparently. And there is a lack of economically viable solutions of zero-emission freight vehicles in the market. There are too few incentives to innovate and modernize fleets, and switch to environmentally-friendly solutions, such as rail or river transport, electric cargo bikes, and autonomous vehicles.
This TDA working group aims to tackle those challenges in a collaborative approach.
Sita Holtslag, who chairs the "Community of Interest Zero Emission Urban Freight" of the TDA explains: "The transport decarbonization alliance brings together frontrunning countries, cities/regions, and companies with an ambition to decarbonize transport before 2050. One of the topics we address is getting to zero-emission urban freight faster, a very interesting topic because it is where all these worlds meet. Together with active partners such as PTV Group, we are asking the questions that are needed and coming up with recommendations and actions that transcend these silo's; on the fast track to zero-emission urban freight"
Key point: electrification of transport
The electrification of freight transport is one of the priorities for this traffic transformation. Electric vehicles have the potential to reduce the carbon footprint and solve air quality problems. Zero Emission Freight Vehicles are essential to curb the growth of freight emissions.
Many logistics fleet operators say they are ready to switch from diesel to electricity. But at the same time, they complain about the lack of functional and economical vehicles. Manufacturers, on their side, say that demand for these vehicles is too low.
So in 2019, the TDA Urban Freight working group launched an international call for signature to demonstrate the potential demand of zero-emission freight vehicles. The objective of this call was to demonstrate that fleet operators are waiting for a wider, operational, efficient, and cost-effective offer.
Indeed, by spring 2020, more than 80 companies and organizations – showin a potential of more than 260,000 vehicles – answered the call. PTV Group took an active part in communicating the call to its customers and partners.
The international scope
To expand the effort, TDA is now working with other international organizations involved in decarbonization. Together with Climate Group/EV100 and CALSTART/Drive to Zero, they are working to speed up development of the zero-emission commercial vehicles, and mitigate supply and demand.
PTV can make a valuable contribution here. Its offering includes not only software that calculates transport emissions, but also modelling and planning solutions to limit and reduce these same emissions. Its research and development team also gained experience in European research projects about the electrification of transport.
With the full potential of its modelling and optimization software solutions, PTV wants to contribute to the global transition of the transport sector towards a net-zero emissions mobility system by 2050