For decades, urban mobility and infrastructure planning followed a car-centric approach. Urban space was dedicated to drivers, with the aim of enabling them to travel as smoothly and freely as possible. Today, the European Union has 569 passenger cars per 1,000 inhabitants on average. Cities are dominated by cars, with consequences we all know: massive car traffic, congestion, noise, and air pollution. Some cities are now thinking about banning cars – at least partially. Let's look at some examples of how the vision of car-free cities is implemented.
What would happen if cars were banned?
The corona pandemic provided a glimpse of how attractive urban life gets, when there is less traffic and more space for people. Parking places were converted into street cafés, and pop-up bicycle lanes made more people hop on their bikes. In many metropolises, the air quality improved, and one could suddenly hear birds singing again.
This has inspired many cities to shift to a more citizen-focused approach in urban planning and find ways to reallocate public space. For example, Milan has approved a £200 million plan to create a new network of bike paths linking the city and its surrounding areas.
Sustainable Urban Mobility Plans are also on the rise – a growing number of cities are relying on this integrated approach to shape future-oriented, sustainable mobility ecosystems.
Concerned about the effects of climate change, some major cities are taking even more radical steps: Becoming car-free.
But they do that in different ways, so here are some examples of car-free approaches, and how cities with less cars could look like.
Barcelona's Superblocks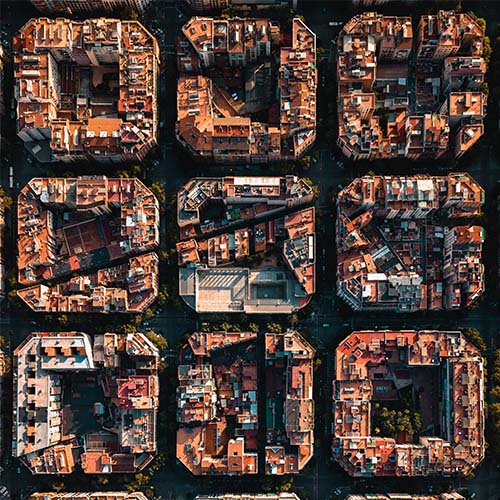 For some years now, Barcelona has been very progressive when it comes to shaping livable and green urban environment. The city has a very extensive urban mobility plan to advance sustainable, safe, and healthy mobility options. The so-called superblocks are at the heart of the urban transformation.
What are superblocks?
Superblocks are neighborhoods of nine blocks, where traffic is restricted. Buses, trucks, and other vehicles that travel from part of the city to another are not allowed to pass through and must bypass this area. Only residents and delivery vehicles are allowed to drive in – with a speed limit of 10 km/h. Parking is only possible in underground garages or outside the superblock. Streets inside are open to pedestrians and cyclists. They are designed to create more open space for citizens to meet and talk, for markets, playgrounds, cafés, or public events.
There are already five superblocks in the city, with more planned. Progress can be followed on a publicly available map of urban transformation.
Paris car-free zone
Giving Paris back to Parisians – this is the drive behind the plans by mayor Anne Hidalgo. Her ambition is to transform the French capital into a green 15-minute-city – where everything residents need can be found within a 15-minute walk or bicycle ride.
Hidalgo's administration has already put in place many measures in the direction of a car-free city: Large sections of the Seine's riverbanks have been successfully pedestrianized; the city's network of bicycle lanes has been widely expanded. New green areas and sidewalks have been created in areas previously reserved for driving and parking.
In addition, the first Sunday of every month is car-free in 10 congested central areas, like the famous Champs Élysées. In August 2021, Paris introduced a speed limit of 30km/h in most parts of the city center, in order to improve air quality.
Recently, Paris is also exploring the introduction of a car-free, or low emission zone. By early 2024 Paris officials plan to ban private vehicles from the historic heart of the city to cut pollution and noise. The new zone would not entirely ban cars. Motorized access would still be possible to residents and people with disabilities, and to vehicles for public transit, deliveries, and services.
Car-free Berlin?
In Berlin, a citizens' initiative is calling for a ban on cars within the area inside the Ringbahn, the train line circling the city center. This would create the largest car-free urban area in the world.
A campaign group called "Berlin autofrei" (Berlin car-free) aims to limit movement in the streets within this area to walking, cycling, and public transport.
As in other cities, the vision of a "car free city" doesn't literally mean that no cars could enter the area. Special permits would be provided, to garbage-collection trucks, taxis, commercial and delivery vehicles, and residents who depend on cars.
"It's about how we all want to live, breathe, and play together. We want people to be able to sleep with their windows open, and children to be able to play in the street again. And grandparents should be able to ride their bicycles safely and have plenty of benches to take a breather on," said Nina Noblé, one of the founders of the initiative, in a recent interview with The Guardian.
The Berlin Senate, the city's governing body, is now considering the idea.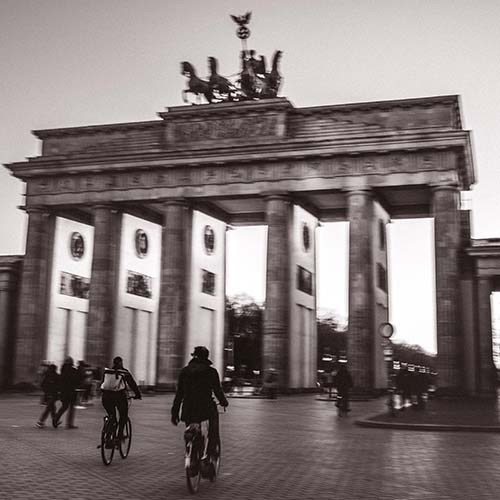 Redesign of urban spaces
The policies of cities and neighborhoods are shifting. More and more of them want to offer livable, green, and attractive environments for residents. The question of where cars can go and how streets could be redesigned to prioritize other uses, from public transportation to park, plays an important role here.
This makes it all the more important for planners to take a closer look at potential measures to create car-free cities. For example, how does the traffic shift when certain neighborhoods are closed to cars? Does the public transport system offer good connectivity and has sufficient capacity? How can different transport modes and services be efficiently connected to create a sustainable mobility ecosystem?
To lead this mobility change, data and simulation models are essential tools.