For a software solution, 30 years is an incredibly long time. But this year, PTV Group – part of Umovity – is celebrating the 30th anniversary of PTV Vissim, the world's leading traffic simulation software. What began as a study at the Institute for Traffic Engineering at the University of Karlsruhe soon became a global success story.
The concept of road network components, as outlined by Dr.-Ing. Hans Hubschneider (one of the founding members of PTV) in his dissertation in 1983, laid the crucial foundation for a simulation tool. The PC implementation of traffic flow simulation made it commercially attractive beyond the university. In 1993, PTV Group officially released VISSIM 1.00 with a graphical user interface on the Windows platform. Since then, the tool has been used by tens of thousands of companies, government agencies, and research and education institutions worldwide to simulate and demonstrate the performance of multimodal transportation facilities. Improved traffic flows, such as optimized traffic light timing, and safer hazard zones also contribute to increased efficiency, reduced emissions, and improved safety.
Best of PTV Vissim: The longest-running applications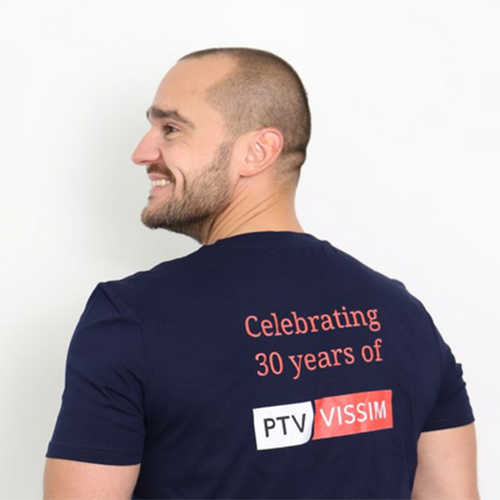 "Good software evolves with its users," says Matthias Pfriem of PTV Group – part of Umovity. "Because we've continuously developed Vissim with a highly competent team, keeping an eye on modern mobility and renewing its technical foundation, we can be proud of having many long-term users. At the same time, we're still discovering new use cases and user groups," adds the product manager. Two of the longest running applications provide insight into both the past and present potential of the software.
The roots
The big step towards Vissim was taken in 1983 with the Ph.D. thesis of Dr.-Ing. Hans Hubscher. He implemented existing and some new models for signal control and public transport in SIMULA-67, a very early object-oriented programming language, and designed a simulation tool that allowed the user to assemble any network from predefined building blocks without programming
WVI – An exceptional moment with strong conviction
"I first encountered Vissim during my studies at the Technical University of Braunschweig as part of my diploma thesis," says Anna Bennecke, project manager at WVI, an engineering and consulting company. "After graduation, when I was working as a research assistant at the Institute of Transportation and Urban Engineering, I initiated a course to give students an insight into the world of microsimulation. It was always a special moment for everyone involved when the first vehicles started moving across the screens.
"Here at WVI, we use Vissim as an established tool in transportation planning for traffic management inquiries. Especially in complex traffic situations, which cannot be adequately evaluated using HBS traffic performance assessments, a Vissim simulation provides valuable answers. The interactions between different road users and traffic facilities can be represented and coordinated in the network context within the simulation. Different analyses can be performed, even over several intersections.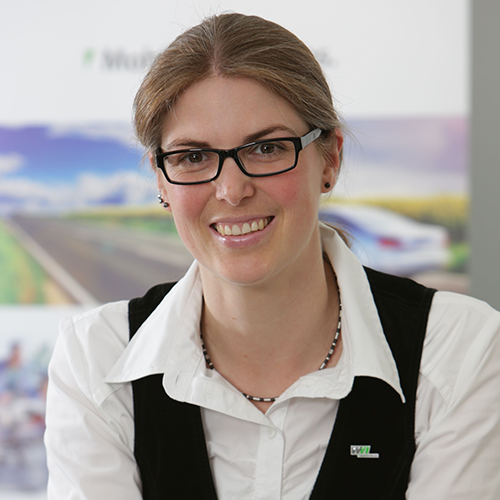 The dynamic images generated with Vissim are very convincing, especially in presentations to policy makers and in public engagements". Bennecke adds, "The use of Vissim has become more user-friendly over the years. The interface to LISA (traffic signal design software) and the scenario management are tools that I use a lot in my daily work."
Bavarian State Construction Authority – Traffic Flow and Traffic Safety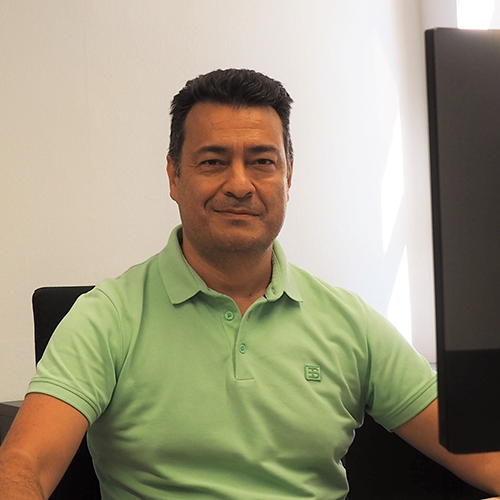 The Central Traffic Management Office (ZVM) of the Bavarian State Construction Authority (Landesbaudirektion Bayern) uses Vissim to efficiently and successfully carry out traffic simulations for optimized traffic planning.
Immet Bakircioglu has been involved in the use of PTV Vissim at the ZVM for a long time: "We support the state construction offices in Bavaria by creating performance analyses of the current state and simulating planned scenarios. Until the company was restructured to become the Federal Highway Company, we also provided technical and expert advice to the highway directorates in southern and northern Bavaria. What I find particularly interesting," says Bakircioglu, "is when we implement a measure directly after a simulation, as in the case of the performance analysis for the Sigmarszell junction (A96/B308/B31) in Germany in 2016. The goal was to make the area safer and reduce accident hotspots. The simulation analysis showed that the most effective measures were the construction of traffic signal systems and the widening of the roadway in the ramp area – and they were indeed effective. In general, the use of Vissim has proven itself over the years. The multimodal simulations lead to improved traffic flow during implementation. By solving traffic problems at complex intersections, we also improve traffic safety. Last but not least, the 3D video animations are very convincing during important presentations. Thanks to our maintenance contract, we always use the latest version of Vissim with unlimited network size and unlimited number of traffic signal systems."
A must-have for sustainable traffic management
Today, the software includes multimodal traffic flow simulation at the highest level of detail – including the simulation of autonomous, networked vehicles and compelling 3D visualization. A wide range of analysis options and open interfaces allow for flexible use in addressing any mobility issue. Analyzing the movement of individual road users is of paramount importance, especially for achieving climate goals. In addition, PTV Vissim helps to find the best compromise between e.g. car and bicycle traffic in the context of the shift in road space allocation during the transition to sustainable transport. Of course, the history of the software is also marked by special use cases. For example, Transport for London used Vissim to optimize traffic during the 2012 Olympic Games. "Essentially," says Pfriem, "you shouldn't even notice that we're contributing to traffic planning in the background. In reality, thanks to the simulations done beforehand, everything runs as it should. I'm grateful to be able to contribute to the development of such an important tool for planning and improving our mobility.
Facts about PTV Vissim and traffic simulation
PTV Vissim is a multimodal traffic simulation with a wide range of configurable motion models for vehicles and pedestrians, making it suitable for use around the world.
Improved traffic flow in more than 120 countries.
Powerful visualization and seamless integration with external software solutions.
The simulation software includes precise emission calculations developed by Bosch, making the impact of traffic measures on emissions visible. In addition to air pollutants, CO2 emissions are also calculated, allowing the climate impact of transportation to be optimized.
PTV Vissim Kernel is a computation core version available on Windows and Linux systems without a user interface, but with the same powerful multimodal traffic flow simulation capabilities.
More information in the press release.
Demo download is available from the website.