Many of us find traveling through airports an exhausting experience: long lines at check-in counters and security points, endless journeys to the gates. But increasingly, airports are using simulation software to analyze and improve the journeys of the people passing through their gates.
This software can simulate how personnel, passengers and vehicles move inside and outside the airport. It also allows planners to test new concepts and emergency scenarios, so that airport management can react appropriately in case of emergency.
Airport technologies such as detectors are already used to monitor and manage people's movement in real time. This helps passenger traffic move more smoothly and detect critical situations promptly. However, a realistic simulation of how people move is even better, as it predicts and optimizes the way airports handle day-to-day operations or renovation areas.
For example, simulation software enables planners to optimize work areas, such as check-in counters and security gates. This results in assigning the right number of employees to these workstations, including their break times. The result: acceptable waiting times and passengers reaching their flights on time.
What do airport simulations do?
When using simulation software, airport operators can simulate how passengers stand in lines, choose walking paths, get in and out of vehicles and cross the street outside the terminal. It is even possible to simulate security checks and predict how people choose escalators, elevators, stairs and corridors.
The simulation tools are so precise, that they make a distinction between movements of pedestrians carrying luggage, and those without or people moving quickly or more slowly. This also applies to vehicles in and outside the airport and their interactions
The software models passengers' movements from the point at which they get off the aircraft, until they leave the airport by train, bus or car.
How do airports plan terminals?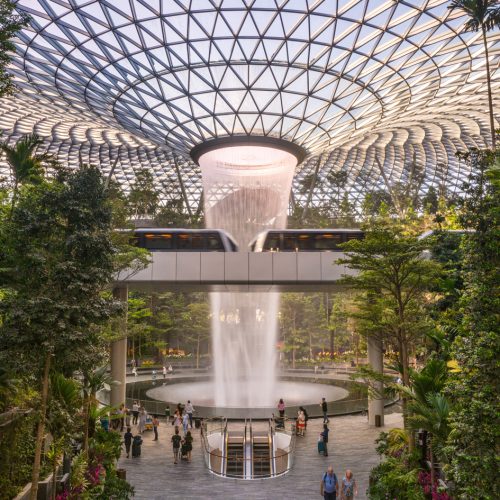 Planning a new terminal is a good example of how simulation software is used in airport management. Singapore's Changi airport, one of the busiest hubs in Asia, is currently planning its Terminal 5. To plan and design the new terminal, the airport is using a microsimulation model. A microsimulation simulates the movement of individual vehicles and pedestrians in detail. This enables planners to model and assess new landside operations and people mover operations. "Landside" refers to everything that connects the airport to the ground transport infrastructure for example roads leading to the terminal building, priority areas for buses, taxi stands, train stations, pedestrian routes and much more.
They model also simulates movements at the airside, where employees supply the planes. As a result, planners can identify the most efficient operating conditions.
The curbside pre-flight chaos
In many airports, the drop-off area outside the terminal – the curbside – can be chaotic and can make a journey start on the wrong foot. So just imagine the curbside scenes at the world's busiest airport, Hartsfield-Jackson Atlanta International Airport (ATL). With over 100 million passengers annually, ATL uses detailed planning and simulation from PTV Group in airport management to prevent traffic jams and disturbances at its curbside areas.
But the airport is growing. So its operator, The Atlanta Department of Aviation, has commissioned Ricondo, a consultancy, to develop a master plan for its growth. That includes the curbsides.
"PTV Vissim is the best tool for modeling the complex curbside behavior, maneuvering, vehicle types, pedestrian interaction, double and triple blockage and line formation", says Gustavo Ceballos, a Ricondo director, "The software helps us understand and plan for the complexities of congested, multi-modal curbside operation at both the domestic and international terminals at ATL, including the interaction of pedestrian crossings, curbside checking, passenger pick-ups and drop-offs, ground transportation on demand systems, and transportation network companies (TNC) operation."
Making the airside efficient
The airside, which includes runways and servicing areas, takes between 80%-95% of an airport's area. A critical yet complex and costly task for airport management is the efficient servicing of airplanes by service vehicles.
Airside efficiency can be improved by simulating and testing different strategies, the apron design, the servicing routes, restricted routes due to length or height of vehicles. Airport operators can decide which scenario should be implemented. The simulation provides the information required to create statistics concerning network performance, vehicle density, journey times and delays.
Take for example Gatwick Airport near London, that increased the number of stands at the pier. The consultancy Atkins used PTV Vissim to model and evaluate an airside road network for future design. It was possible to determine delays of airside vehicles and the impact on aircraft operations. Even scheduling of ground support equipment could be linked to the flight schedule.
"PTV Vissim's so called trip chain matrices were particularly useful for determining demand from the flight schedule," says Yogesh Patel, Senior Managing Consultant at Atkins.
Can airport emergencies be better managed?
Perhaps the ultimate task of simulation software is evacuation scenarios. What actions could the airport operator take to ensure safe evacuation? What happens if people need to exit onto the airside apron, where should they go? How should service vehicles and aircraft be moved if the terminal is on fire?
PTV Viswalk, a software simulating pedestrian movement, has recently been updated and now even simulates fire effluent data – how smoke progress affects people during fires It is also possible to simulate how emergency vehicles move and what happens to people and their luggage.
Another emergency scenario could be at the gate: How are the passengers directed to the check-in area? Do the lines snake back and forth? Do the lines interfere with other people or do they affect passengers at the staircases?
Simulation software helps airports to analyze evacuation scenarios, including potential danger spots, flow movement, and escape routes (here's a simulation of how it can done through an airport train station).To sum it up: If the airport management can trace how people and vehicles move, they do not only improve efficiency, but also create a positive experience for passengers.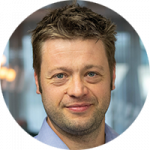 Co-author Chris Davis: 
Chris, a member of PTV Group's team in the UK, is excited about using transport modeling in new and innovative ways – for example, to plan airports.