Bicycle parking at train stations is crucial in promoting sustainable commuting. Combining cycling and train travel enables commuters to cover long distances, while a convenient and safe bicycle infrastructure encourages people to get on their bikes.
Bicycle and train commuting is an appealing option when a good cycle link connects the station and the destination. The bicycle parking situation is equally important. Bicycle parking facilities at the station must be easily accessible, safe, and protected from weather conditions.
In this article, we'll take a closer look at some principles and tips for building bicycle parking for train commuters.
Optimizing bicycle parking at train stations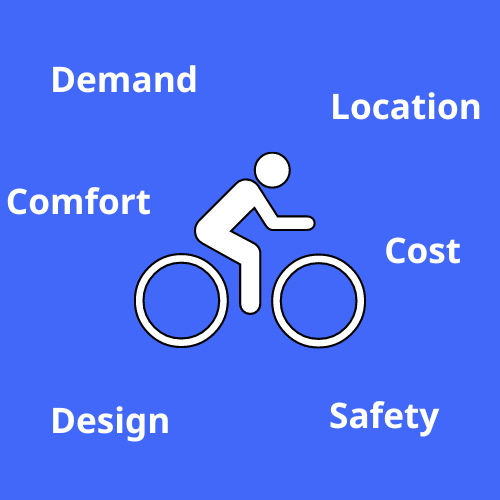 PTV Group and others have conducted studies that identified several essential principles for planning and designing bicycle parking at train stations:
Demand: The number of bicycle parking spaces should meet the demands of commuters. You can estimate the demand by considering the number of people using the train station daily and the average number of bicycles per person in the area. Research conducted by PTV Group in 2019 on behalf of the German government found that increasing bicycle parking spaces at train stations would not only encourage cycling, but also reduce traffic congestion and air pollution.
Location: Locate the bicycle parking strategically – near the train station and along the route that commuters commonly take to reach the station. This ensures easy access for users and emphasizes the integration of bicycle parking within a city's active mobility plan.
Comfort: Provide well-lit, secure, and easily accessible bicycle parking spaces to prioritize user comfort and safety. Install clear signage. Consider offering amenities such as bike racks with locks, bike pumps, and repair stations.
Design: Tailor the design of bicycle parking to the local context, taking into account factors such as climate, traffic flow, and the surrounding environment. For example, cold weather regions may benefit from covered bike parking to protect bikes from the elements.
Safety: Secure bicycle parking spaces deter cyclists from leaving their bikes locked up on the street, reducing the risk of theft and vandalism. This fosters a welcoming environment for cyclists and encourages an increase in cycling activity.
Cost: This can vary depending on the type of bike parking. While outdoor racks are typically more affordable, secure lockers may be a necessary investment to accommodate longer-term commuters.
Tips for planning bicycle parking at train stations
Once you have considered these factors follow these tips for planning bicycle parking at your train station:
Consult with the community: This helps you to understand their specific needs, enabling you to design bicycle parking that best serves the local population.
Use a variety of bicycle parking types: Incorporating different types of bicycle parking options caters to diverse bicycle users. For example, short-term commuters may prefer outdoor racks, while long-term commuters may require secure lockers.
Ensure regular maintenance: Keeping the bicycle parking well-maintained ensures safety and security, with regular inspections and repairs.
Promote bicycle parking:Effective promotion through signage, social media, and other marketing materials will encourage the community to use the new bicycle parking facilities.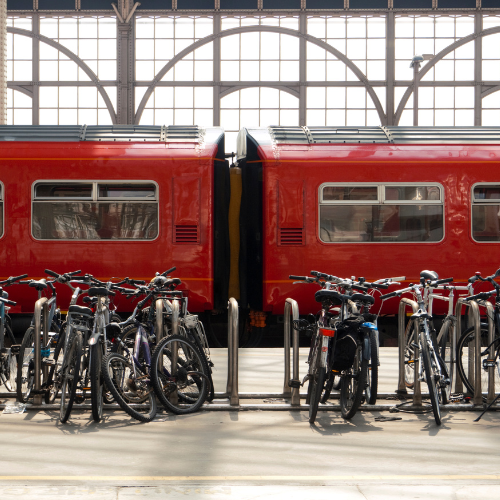 Effective software tools for planning bicycle parking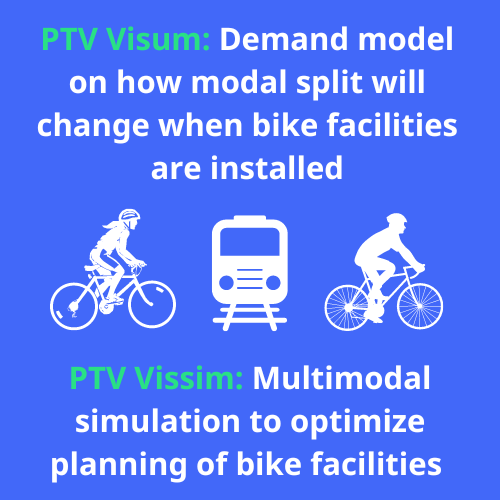 Modeling and simulation software can improve the planning of bicycle parking at train stations.
PTV Group developed a unique online impact calculator (in German only) that assesses the quantitative and qualitative effects of a bicycle parking system at a train station. The results can be downloaded and presented to stakeholders and local citizens.
This assessment tool requires input on how the modal split will change due to the building of a bicycle parking. This input is gained from a demand model created in PTV Visum, the world's leading transport planning software.
PTV Vissim, the multimodal traffic simulation software, can also be used to optimize where and how bicycle parking stations are built. This can help avoid conflicts between cyclists and pedestrians near the parking facilities.
Tanja Schaefer, a PTV Group expert involved in the project, adds: "It's important to improve cyclists' accessibility to train stations. But this aspect is often forgotten, resulting in underused bicycle parking facilities. In many cities, the use of modeling software already contributes to better accessibility for cyclists wishing to use the train".
PTV group is contributing its cycling and modelling expertise to the new information center in Germany, that supports cities and municipalities in creating an attractive cycling infrastructure with modern bike parking facilities.
By following the above principles and tips, you can build bicycle parking that is convenient, safe, and attractive to commuters. The use of modeling software can greatly improve the chances of success.
If the right framework is set, cycling and train travel can form a kind of distinct transport mode and contribute greatly to an environmentally friendly shift in mobility.